"This sugared almond and mandarin orange green salad has been a family favorite for years. Sweet mandarin orange slices and crisp, sugary almonds with the addition of crunchy, salty celery make this a kid and husband pleaser. A simple sweet and sour vinaigrette puts this green salad over the top!"
It's been a long time since I made this tasty salad and I'm not sure why I ever stopped. It has always been a crowd pleaser and is so simply put together. Way back when, when I wondered if my kids would ever eat a fresh green salad, I came upon this recipe. It is a popular one and I'm sure you've had a version of it. Maybe I knew the kids would love anything with mandarin oranges straight from the can. I remember dumping orange slices onto their high chair trays and watching them carefully pick up each slice, one by one, and plop them into their mouths. Mandarin oranges were a special treat for them and for me too, because it meant I didn't have to peel an orange!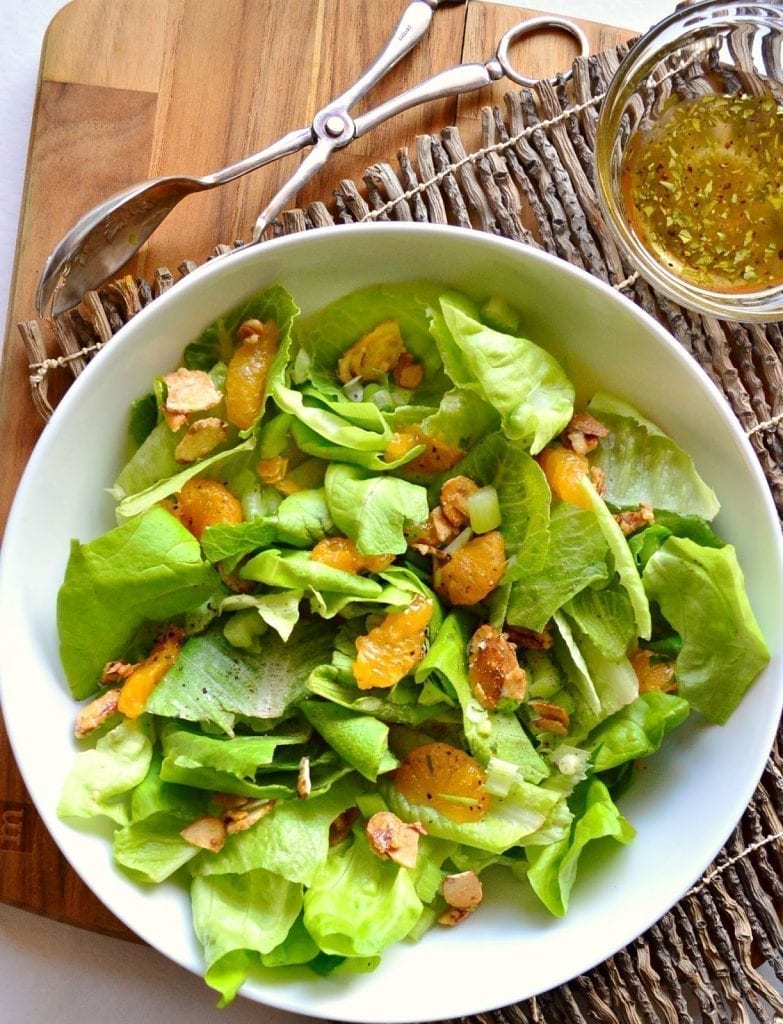 My kids were great eaters and I really didn't have many problems with their habits. Zoe was always cautious about not eating anything peppery and Alex had to watch his lactose intake, but other than that I was a lucky mom with kids that were easy to please. We did have one rule which required two bites of everything, because it was magic that made one's tastes change. If one didn't taste, the magic wouldn't happen. My kids actually believed this and I think they were always testing me on when the magic would work. I can truly remember them saying their tastes did change when all of a sudden they discovered that something they didn't like, became something they did. They also loved Caesar salads at an early age. I think it was the croutons that caught their eye, but as they got older Manservant quickly convinced Alex that the anchovies were the best part. Really.
But today we are talking about something as simple as sweet oranges out of a can. Combined with green celery and a few green onions and yeah…the magic of sugared almonds, this salad is sure to please even the pickiest eaters.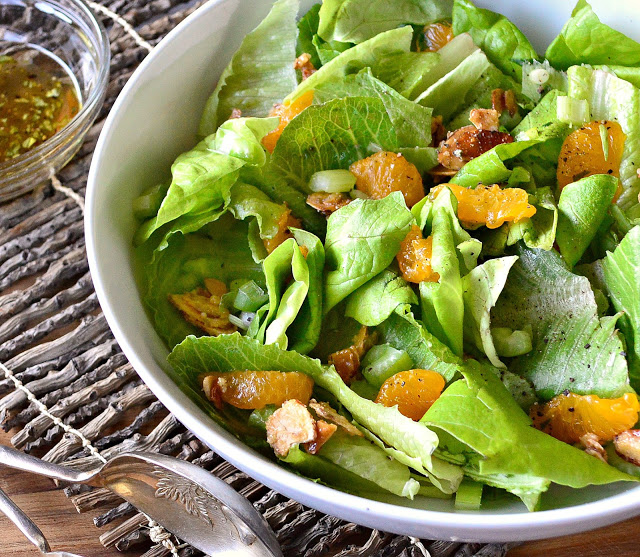 yield: 4-6 servingsAuthor: Abbe Odenwalderprint recipe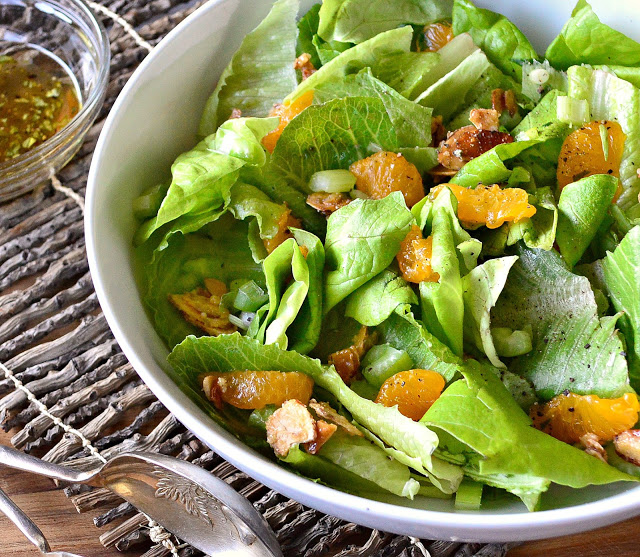 Sugared Almonds and Mandarin Orange Green Salad
"This sugared almond and mandarin orange green salad has been a family favorite for years. Dressed with a sweet and sour vinaigrette this green salad is a kid and husband pleaser!"
prep time: 25 MINScook time: total time: 25 mins
INGREDIENTS:
1/2 c sliced almonds
3 T sugar
1/2 head Romaine lettuce
1/2 head Butter Lettuce
1 c sliced, chopped celery
4 green onions, chopped fine
1 11oz can Mandarin oranges, drained
Sweet and Sour Vinaigrette
1/2 t salt
Fresh ground pepper to taste
1/4 c olive oil
1 T chopped Italian parsley
2 T sugar
2 T red wine or apple cider vinegar
INSTRUCTIONS:
In a small skillet over medium heat, cook almonds and sugar, stirring constantly until almonds are coated and sugar has dissolved. This burns easily so stir constantly. It may take about 10 minutes, depending on the heat of your burner. Cool. (This may also be made ahead and stored for future use.)
Combine lettuce, celery and onions in a large bowl. (If you want to make ahead, I always cover the top of the bowl with a paper towel and store in the fridge until I'm ready to use.)
Combine all dressing ingredients together and chill until ready to toss salad.
When ready to serve add almonds and oranges and toss with the dressing. (This is also great with feta cheese, or slices of chicken if you choose to make this a main course.)
.recipe-inner{max-width:620px;border:6px double #009BFF;padding:20px;background:#f2f2f2;margin:40px auto;font-family:Lato,sans-serif}#recipe .info{font-size:13px;text-transform:capitalize;border-bottom:2px solid #000;padding-bottom:7px;margin-bottom:20px}#recipe .info:after{content:";display:table;width:0;height:0;clear:both}#recipe .info span{margin-top:-6px}#recipe .info .yield{margin-right:30px}#printbutton{color:#fff;float:right;background:#555;padding:5px;border-radius:3px;cursor:pointer}#recipe .time{text-transform:uppercase;font-size:12px;text-align:center;background:#fff;padding:15px 0;margin:20px 0}#recipe .time span:not(:last-child){margin-right:12px}#recipe .time span:not(:last-child):after{content:";display:inline-block;height:10px;width:1px;background:#000;vertical-align:middle;margin-left:12px}#recipe .summary{line-height:1.7;font-style:italic}.ingredients,.instructions{line-height:1.7}#recipe .recipe-name{font-size:18px!important;color:#000}ul.ingsContent{list-style-type:disc!important}ol.ingsContent{list-style-type:decimal!important}.ing-section{margin-top:10px}.instructions li{margin-bottom:15px!important;line-height:1.6}#recipe .instructions{margin-top:30px}#recipe .ingsContent{padding:0 0 0 40px !important;margin:0!important}#recipe .posturl{border-top:1px solid #ccc;padding-top:10px}strong.subTitle{margin-left:15px;font-weight:700!important}.subTitle ~ .ingsContent{padding-left:50px!important}.recipe-credit{font-size:13px;border-top:1px solid #ccc;padding:10px;text-align:center;background:#fff;margin:-20px;margin-top:15px}.recipe-credit a{color:blue;text-decoration:none}.recipe-credit a:hover{text-decoration:underline}#recipe .copyright-statement{font-size:13px;font-style:italic;border-top:1px solid #ccc;margin-top:15px;padding-top:15px;line-height:1.6}@media only screen and (max-width: 550px){strong.subTitle{margin-left:0!important}.ingsContent{padding:0!important}.subTitle ~ .ingsContent{padding:0!important}}#recipe .image{text-align:center;margin-bottom:25px;margin-right:20px;float:left}#recipe .image img{max-width:250px}#recipe .recipe-name{font-size:20px !important;line-height:1.6;text-transform:uppercase;margin-top:0;letter-spacing:1px;text-align:left;margin-bottom:25px}#recipe .time{background:#fff;clear:both;border:1px solid #d7d7d7}function printDiv(a){var b=document.getElementById(a);newWin=window.open(",'printwin');var c=newWin.document.createElement('style');c.innerHTML='html{font-family:sans-serif}img{display:none;}#printbutton,.recipe-credit{visibility:hidden;display:none;}.info{text-align:center;text-transform:capitalize}.recipe-name{text-align:center}.info span{margin-right:20px}.time{text-align:center;padding:10px;border-top:1px dashed #000;border-bottom:1px dashed #000;}.time span{margin-right:20px}';newWin.document.getElementsByTagName('head')[0].appendChild(c);newWin.document.getElementsByTagName('body')[0].innerHTML = b.innerHTML;newWin.print();newWin.close()}



More great salads:
Farro and Kale Salad Hearts of Palm, Avo and Oranges Macho Salad
Please Pin and Share: