This Overnight Reuben Strata is a great way to start your day, though it is also perfect for brunch, lunch or dinner. Savory, tangy and a bit cheesy, this overnight Reuben corned beef strata is better than a sandwich. IMO!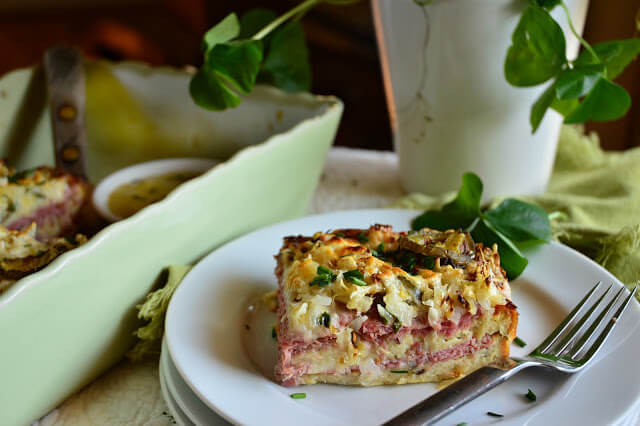 I have never liked a Reuben. You know the Reuben you order for lunch with corned beef and Thousand Island, Swiss cheese, rye bread and…sauerkraut. To me that's just too much gobblygook. I know many of you adore them. I have a girlfriend who only orders a Reuben at lunch; after first apologizing that she just shouldn't. But she does.
I do like corned beef, but only between the bulk of an onion roll or in the split of a bagel. I know. I don't eat beef anymore but I do confess to having a bite of thinly sliced corned beef when it is around. Which is almost like never. Upon dissection of this sandwich it appears that there isn't much I like about it. I never liked rye bread because I'm not a fan of caraway. Swiss cheese was not my favorite. And sauerkraut? Puleeze…Though my father kept it in a jar hidden in the recesses of the refrigerator as if he was worried someone might eat it. As for 1000 Island dressing? I preferred the good old bright orange, sugary French dressing made by Western. However my mother did make her own version of 1000 Island with just two ingredients. Ketchup and mayo. She put that on iceberg lettuce when we were kids. That was good.
So what compelled me to make this savory strata filled with corned beef and Swiss cheese? Perhaps it was the fact that I love making breakfast the night before. I love the casseroles that you can keep overnight in the fridge and bake the next morning. In this case I kept it 24 hours and baked it for dinner. It was perfect.
Filled with heaps of corned beef and the slight tang of mustard, with no 1000 Island in sight; I guess you could say I've grown up.  I even made this strata with Jewish rye, (go figure) and I tried but couldn't detect the caraway. Top this with well dried sauerkraut and good old Swiss cheese and this was a wholesome delicious experience. The corned beef benefits from the nutty sweetness of the Swiss and the tang of the sauerkraut. The bread melts right in and seems to hold everything in place. A perfect strata. Just look at those pretty layers!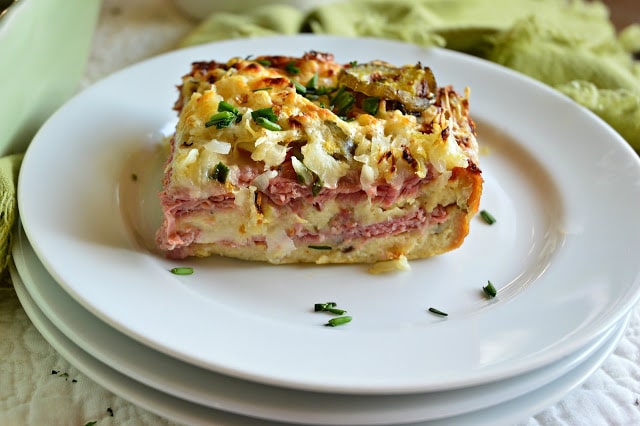 A few other varieties of stratas if you care to partake:
And from me a few other of my favorite overnight breakfast casseroles: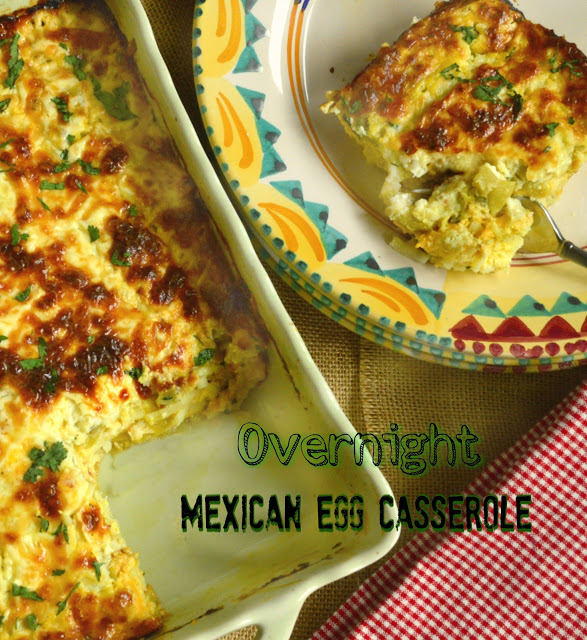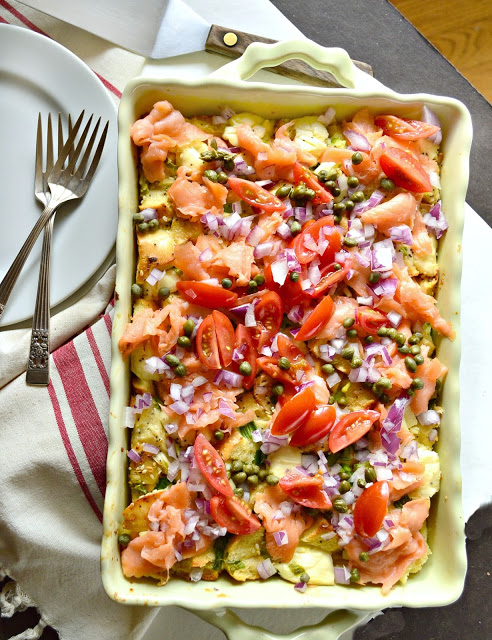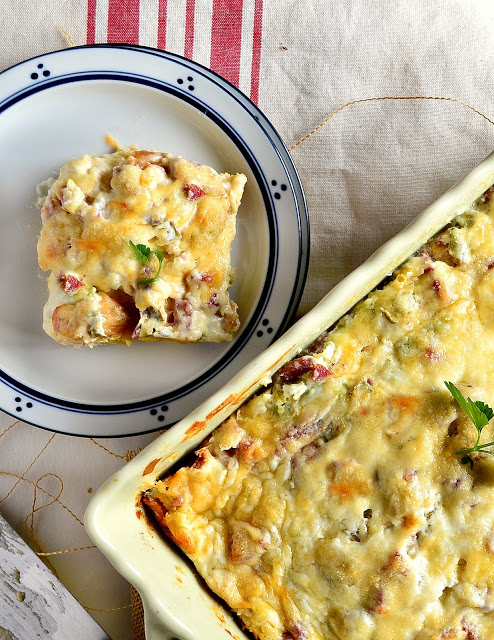 Please Pin and Share this great strata!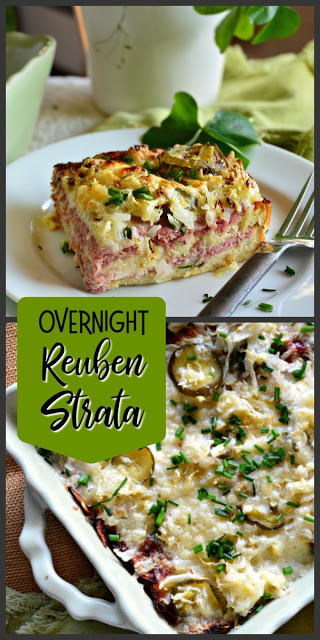 Print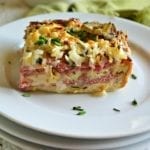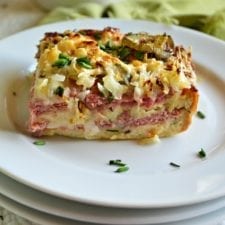 Overnight Reuben Strata (Way Better Than a Sandwich, IMO)
Author:

Prep Time:

20 Minutes

Cook Time:

50 Minutes

Total Time:

1 hour 10 minutes

Yield:

4-6 Servings

Category:

Breakfast/Brunch/Lunch/Dinner

Method:

Baking

Cuisine:

American
---
Description
This Overnight Reuben Strata is a great way to start your day, though it is also perfect for brunch, lunch or dinner. Savory, tangy and a bit cheesy, this corned beef strata is better than a reuben. IMO!
---
Ingredients
6 – 8 slices rye bread, TOASTED (The number of slices depends on the size of your pan and the bread. I used Oroweat Jewish rye and only needed 6 slices for 11 x 8 pan.)
1 lb thinly sliced deli corned beef
8 oz Swiss cheese shredded (2 cups)
3 large eggs
1 1/2 c whole milk
3/4 t salt
1/2 t pepper
12 ounces sauerkraut, drained and squeezed dry (I used Trader Joe's Persian Pickle)
2 T minced fresh chives or scallions
1/3 c mustard (optional) and Dill Pickle chips (optional)
---
Instructions
Spray or grease an 8 inch square pan or an 11×8 rectangle pan. Spread mustard on 1 side of slices of bread. This is optional though I did enjoy my sweet hot mustard in this! Arrange half of bread slices in one layer in prepared dish.
Top slices of bread with half of the corned beef.  Sprinkle corned beef with 2/3 c of the Swiss cheese. Repeat layer with the the rye bread , corned beef and 2/3 c Swiss cheese.
Whisk eggs, milk, salt and pepper together in a bowl. Pour evenly over top of strata. Cover dish tightly with plastic wrap , pressing it directly on top of the bread. Weigh strata down with heavy cans, wine bottles or even dried beans in a ziplock bag. Press so that it is weighted firmly and evenly. Refrigerate overnight and up to 24 hours.
Adjust oven rack to upper middle position and heat to 325. Meanwhile let strata sit at room temperature for 20 minutes uncovered. Bake until edges and center are puffed and edges have pulled away from sides of pan; about 50 minutes. Rotate pan after 25 minutes.
Remove pan from oven. Adjust oven rack to about 8 inches from broiler. Heat broiler to high. Sprinkle sauerkraut over top of strata, (at this point you can also throw on some dill pickle slices if you desire) then sprinkle with remaining 2/3 c of cheese. Broil until cheese is melted and golden, about 5 minutes.
Remove pan from oven and let cool for 10 minutes before serving.
---
Notes
Adapted slightly from "One Pan Wonders" by America's Test Kitchen
Keywords: strata, breakfast, breakfast casserole, overnight breakfast casserole, Reuben, corned beer, brunch