This is my mom's special coleslaw recipe. She always made it with purple cabbage, sugar and celery seed. What can I say? This is pretty special coleslaw!
Oh my my.
My head is in a tizzy and my mom's secret recipe is no longer a secret. But then if you read the last post her ice cream habits are not either! What isn't a secret is that Alex is finally off to China. After two years of working hard, he has finally flown away. For a brief 15 minutes we worried that he wouldn't make his flight leaving from Denver, as Southwest had cancelled flights last night due to heavy storms. At 5AM this morning the lines were incredible, but due to Manservant's savvy in negotiating lines at airports, Alex managed to check his bags and make his flight. Currently, he is over the ocean on his way to Hong Kong with his final stop in Shanghai. I think he knows his way.
He is not taking the "Odesmobile".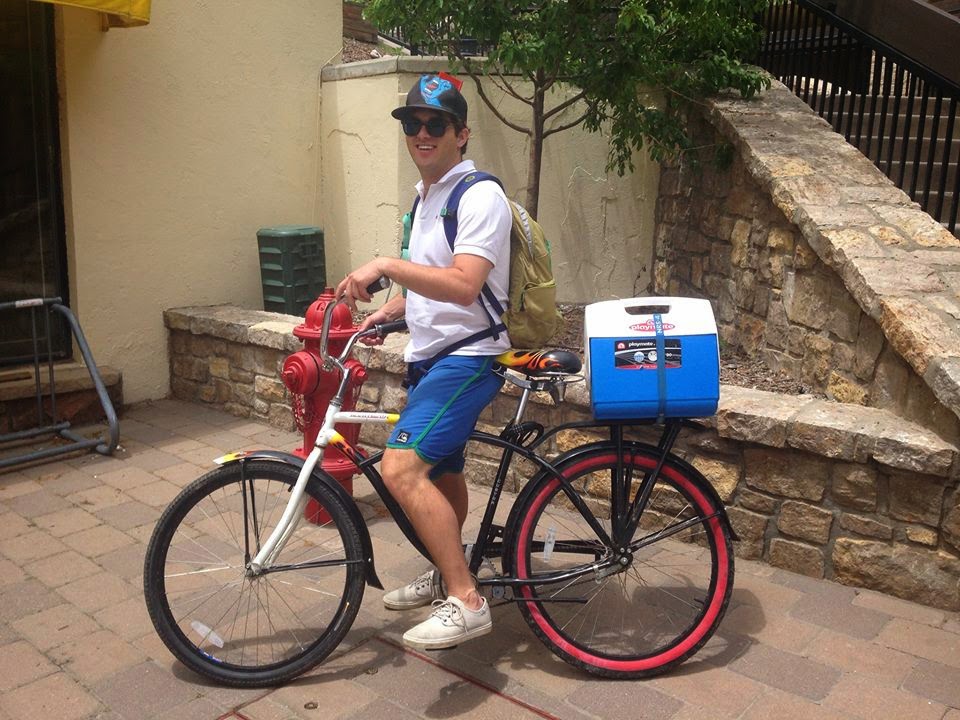 He is not taking a boat.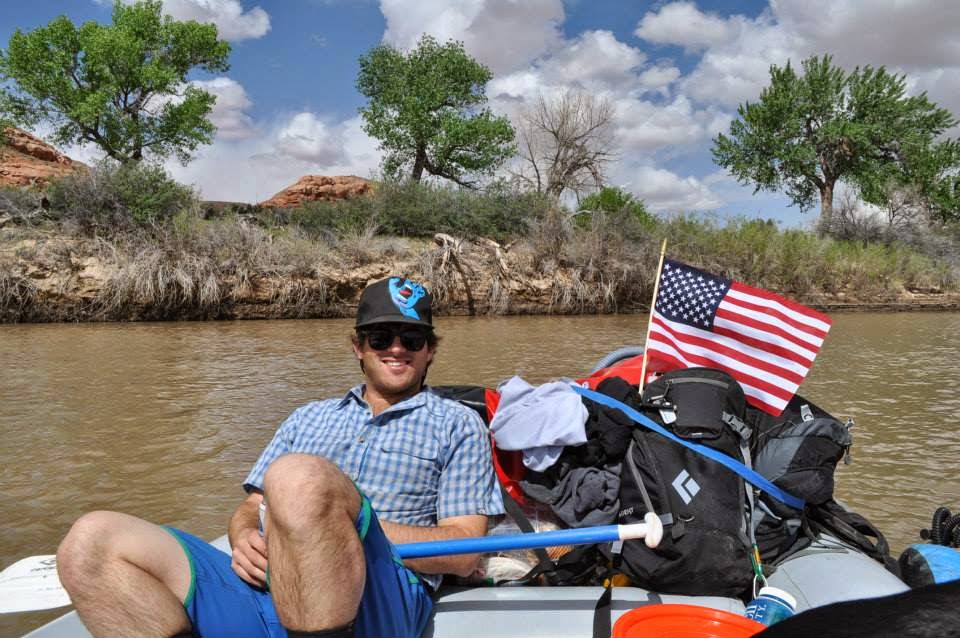 Oh my my. I can still boogie if I try.
How long he will be gone is anybodies guess but he is hoping it will be for an "extended period". I am not good with the word, "extended period". I like dates and times and conclusions. But Alex's life just has chapters and that suits him fine. It actually is OK with me, but I am not good with open books especially when I don't have a date that I will see him next. And therein is the quandary with the word "extended period". I am sure I will see him several times during the "extended period", but not knowing when is my dilemma. Oh my my.
Before Odie San left Vail he threw himself a party. An oyster party. I have never seen a 23 year old throw himself an oyster party, but this was the photo he posted on Facebook.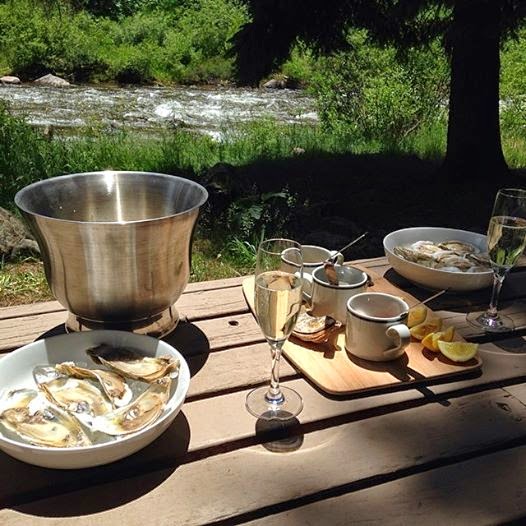 I wish I would have gotten some photo tips from him. Yes, my boy likes to go out with style. He certainly did not learn how to eat oysters from me, as I am not an oyster eater. He did leave some for Manservant in his Odie ice chest, that I hope are still alive and that I can throw on the grill tonight. That means I must open the ice chest to check to see if they are still alive, and I am a bit leery of what I might find! Oh my my.
My intention was to give you this fabulous coleslaw recipe before said boy arrived home with his other home in his car. That home is now spread throughout THE HOME, and to say I have been distracted since 4th of July is not an understatement; which is why this secret coleslaw recipe has been secret since then. Well, really since way before then, but you wouldn't know that would you? Oh my my.
And so it is. Off he goes, as the world still spins. Babies are born. Missiles land. Parents move. Daughters get interviews. And life goes on. Chapter by chapter. Oh my my. Please pass the coleslaw.
Note: My mom made this coleslaw – a lot! She always used purple cabbage for as long as I can remember. She sometime used too much celery seed, but that is up to you to determine. People loved her coleslaw. My mother in law requested this recipe some 32 years ago. Here it is, Maw. Enjoy.
This keeps its crunch for at least a few days in the fridge. It seems like a lot of sugar and it is, but in my opinion is not too sweet. It is great on a hot dog. It is great next to fried chicken. Or next to corn on the cob. It is great in a boat or on a plane. In a car or on a bus. Oh my my. You can boogie if you try!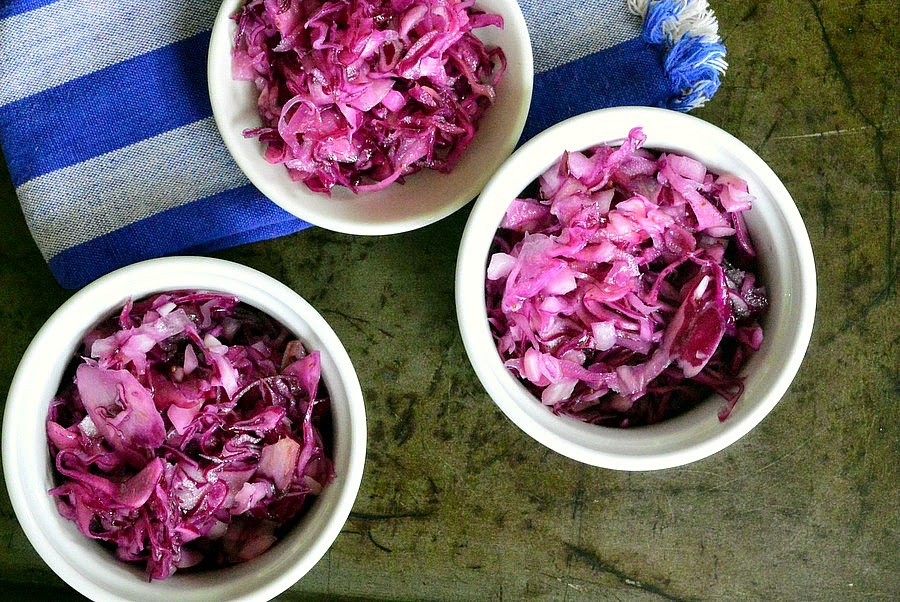 Mom's Secret Cole Slaw
Serves 10-12
Time: About 15 minutes
Ingredients:
1 large head shredded, purple or green cabbage (Buy in a bag or grate your own. Mom used to chop it in the food processor.)
1 large chopped onion
1 c sugar
Dressing Ingredients:
1 c apple cider vinegar
3/4 c salad oil (I used canola)
2 T sugar
1 t celery seed or to taste
2 t dry mustard
1 t salt
Pour sugar over cabbage and onion and mix well. Let stand while you make the dressing. Bring dressing ingredients to a boil and boil for one minute. Pour over cabbage mixture and stir well. Let marinate for several hours before serving – or not. This tasted great even within an hour! Oh my my!
Other Salads to try: