Better than takeout-this Chinese chicken in garlic sauce is easy to make and so much better than the local joint!
Chinese chicken in garlic sauce is always one of my favorites at any Chinese restaurant.
It's an Americanized Chinese dish and I can always count on it to satisfy my craving.
Well, no need for Chinese takeout anymore! This easy Chinese garlic chicken stir fry recipe is so simple to make and I daresay better than my favorite restaurant around the corner.
I do cook many Asian dishes but often just throw them together when I'm in a hurry, in which case I don't write anything down, which makes them hard to post!
In this case I actually followed a recipe so on a busy weeknight I won't have to remember what I did three weeks prior!
You will love this super simple recipe made with chicken breast meat.
I slice up the chicken fairly thin and one easy way to do that is to put the boneless, skinless chicken breasts in the freezer for about 10 minutes before slicing.
Make sure to slice against the grain to achieve the tenderest chicken and use a sharp knife.
Ingredients for Making Chicken with Garlic Sauce:
Though this dish is loaded with Arbol dried red peppers that give this significant heat, it was perfectly acceptable to us.
We love Sichuan food and though this classic is not ordinarily spicy, we loved it just like this!
Prefer to add your own heat? Just leave out the dried chili peppers and add chili oil or chili sauce to taste before serving.
There are so many interesting ingredients at Asian grocery stores.
I try to stock up whenever I go, because the one I visit is about 20 minutes away. No, that isn't far but not in a direction I often head.
Condiments like light soy sauce are easily found, as is Shaoxing wine, chili peppers and cans of bamboo shoots.
This recipe also called for wood-ear mushrooms which I always have on hand.
Wood-ear mushrooms are actually a fungus and are found dried at any Asian market. They must be reconstituted in hot water for about 30 minutes before slicing into thin shreds to use in this stir fry.
They don't have a lot of flavor but pick up flavors from the dishes they are cooked with.
Chinese cuisine is very big on texture and wood-ear mushrooms add texture.
Kind of chewy and a bit crunchy, they are often the black things you might see in your hot and sour soup.
Don't have these? No worries. Shitake mushrooms will be just fine!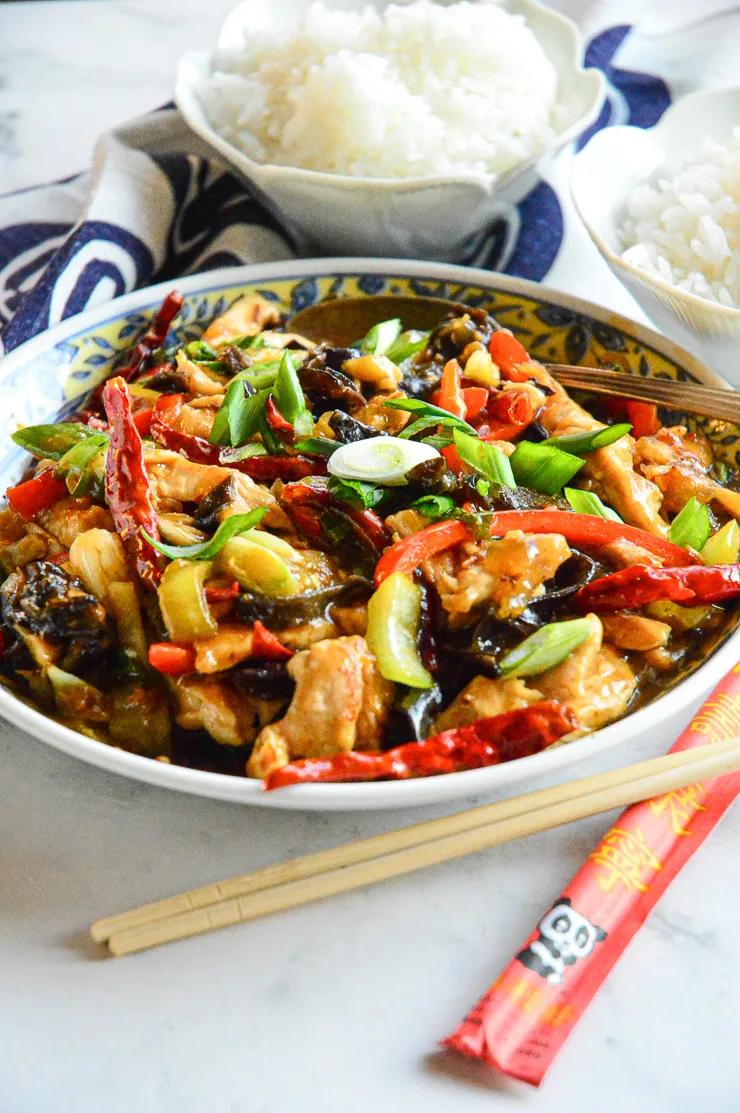 Don't have Shaoxing rice wine? Use dry sherry or saki.
Light soy sauce? Light soy sauce is lighter in color, thinner and tastes saltier and isn't as sweet and thick as traditional dark soy sauce.
Light soy sauce-like virgin olive oil- is made from the first press of the fermented soybeans.
Any all-purpose soy sauce will substitute for light soy sauce.
Fresh ginger can easily be found. It can also be frozen after grating. So if you find your ginger turning a slight bit moldy because it has sat in the refrigerator for so long, trim it off and grate it,
Another alternative is using ginger from the tubes you find in the produce section, but I will warn you-when it is added to your skillet or wok-it will splatter!
Last night I served my garlic chicken with jasmine rice and some fresh cut pineapple. Brown rice and mangoes would be great, too!
And much to Manservant's chagrin, I also stir-fried some broccoli!
Another thing to mention is that garlic isn't actually in the chicken stir fry sauce. Garlic is added when stir-frying! Just didn't want you to think I forgot to put it in the recipe!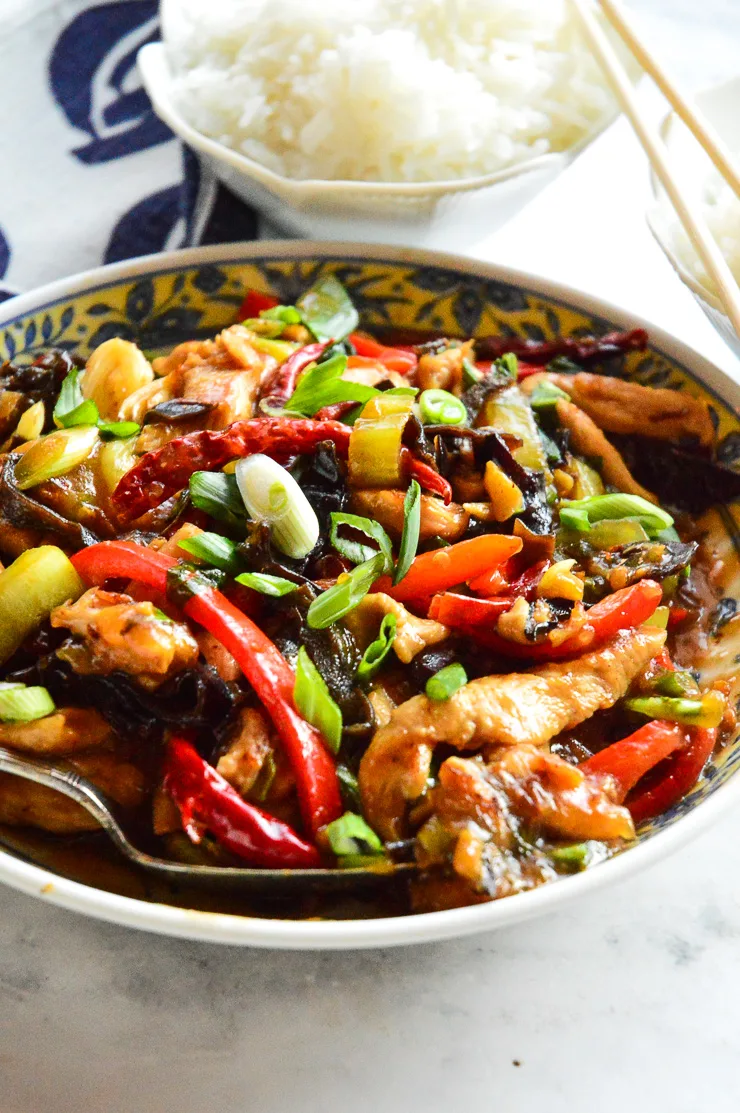 So let's get this super-duper healthy meal started, shall we?
Begin by slicing 10 ounces of chicken breast into thin slices. Yes, this recipe does serve four but some folks like more chicken, so feel free to add it.
Place it in a small bowl and add a pinch of salt, some corn starch and a teaspoon of sesame oil. Stir it up and set aside.
Now make the delicious sauce:
Combine light soy sauce, rice vinegar, Shaoxing wine, sugar and chicken broth in a mixing cup and set aside.
For best results make sure to get everything ready before the oil hits the pan!
I usually arrange my ingredients on a cutting board next to my cooktop.
In a wok or a large skillet, add two tbsp of oil.
On your cutting board place 12 small dried chilies if using.
Chop up 1 teaspoon of ginger and 3 cloves of garlic.
I used 1 head of baby bok choy and separated the lower part from the leaves. The lower part takes longer to cook and the leaves can be stirred in just before taking off the heat.
Place the wood-ear mushrooms, julienned on your board and now thinly slice vertically one half of a red bell pepper.
Mix up your slurry. Slurry? Many Chinese recipes use an equal amount of cornstarch and water to thicken the sauce. It is stirred in at the end of the frying process.
The last thing to do is to diagonally slice some green onions. Nothing looks or tastes better than that simple garnish of spring onions.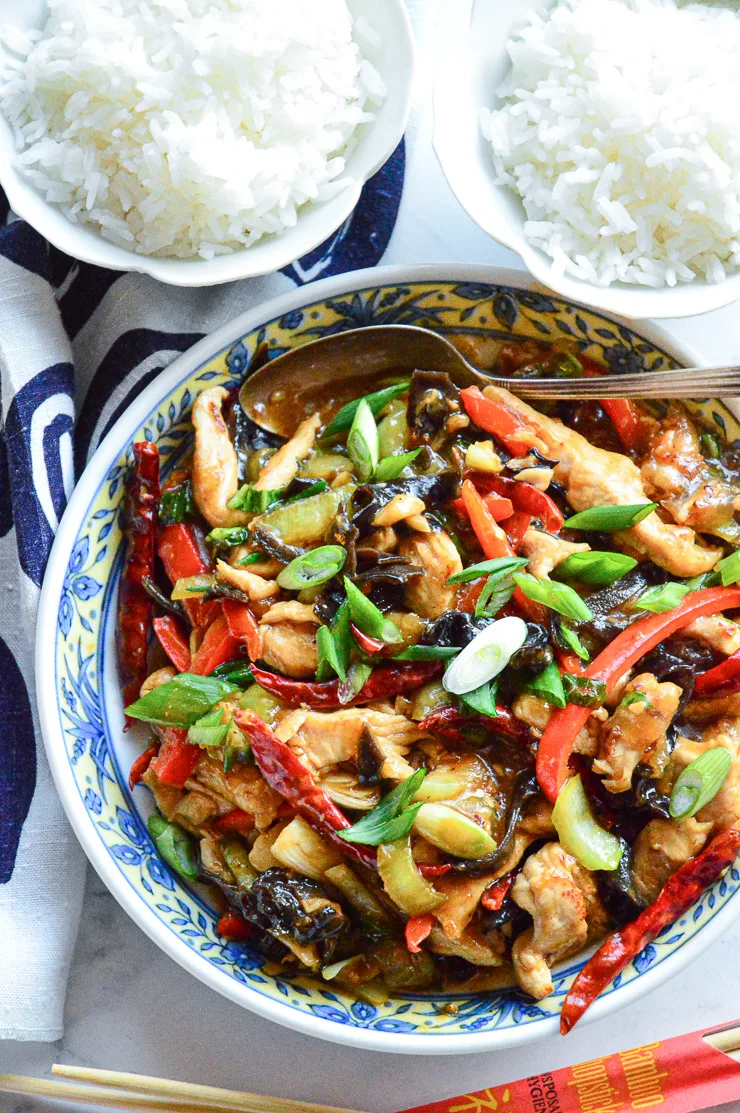 How To Cook Chicken with Garlic Sauce:
Time to heat the wok with the oil in it over medium heat.
Add the chilies, ginger and garlic and cook for a minute. Turn the heat to high and add the chicken. Stir fry until the chicken is opaque in color.
Now add the wood ears, the lower part of the bok choy, and the sliced red bell pepper.
Pour in the sauce and bring to a boil. Add salt to taste, chili oil if using and the cornstarch slurry.
Allow the sauce to boil which will thicken this easy dinner recipe.
Sprinkle on the scallions and serve.
This has now become one of my favorite dinner recipes.
Though this recipe is supposed to serve four, if feeding a whole family, you may want to double it, but you know your family's appetite better than I do.
This recipe comes together very fast, but like any Chinese recipe make sure to have everything ready to go before the cooking begins.
Hope you add this to your easy Asian recipes file and remember to look it up on a busy night.
It may change your mind about takeout forever!
(This post may contain affiliate links of which I may or may not be paid a small commission at no cost to you.)
Hungry for More?
Cantonese Steamed Chicken with Mushrooms
I'd Love it if You'd Follow Me and Pin and Share!
Print
Chinese Chicken in Garlic Sauce
Author:

Abbe Odenwalder

Prep Time:

15 Minutes

Cook Time:

8-10 Minutes

Total Time:

25 Minutes

Yield:

2

-

4

Servings

1

x

Category:

Main Course

Method:

Stir-Fry

Cuisine:

Asian
---
Description
Better than takeout-this Chinese chicken in garlic sauce is easy to make and so much better than the local joint!
---
10 ounces thinly sliced boneless, skinless chicken breast
Pinch of salt
1 t cornstarch
1 t sesame oil
Sauce
1 T light soy sauce
1 T rice vinegar
1 T Shaoxing rice wine, sherry or saki
1 T sugar
3/4 c chicken broth
Stir Fry
2 T vegetable oil
12 dried red Arbol chilies
1 t minced ginger
3 cloves minced garlic
1 head of baby bok choy-leaves separated from stalk and both sliced
1 c reconstituted dried wood-ear mushrooms or shitake mushrooms
1/2 red bell pepper, sliced thin and vertical
Salt, if needed
Chili oil (optional)
2 T cornstarch mixed with 2 T water
1 diagonally sliced scallion
---
Instructions
Marinate the sliced chicken with salt, cornstarch and sesame oil. Set aside.
Combine the ingredients for the sauce in a large mixing cup. Set aside.
Heat 2 T of oil in a wok or large skillet over medium heat. Add the dried chilies, ginger and garlic and cook for 1 minute.
Turn up heat to high and add the chicken. Stir fry until opaque.
Add the lower part of the bok choy, the mushrooms of choice, and the bell pepper. Cook for two minutes.
Add the sauce and stir well. Bring to a boil and add the cornstarch slurry. Stir in leaves from bok choy and half of the sliced scallions. Stir fry for thirty seconds, allowing the sauce to thicken.
Give a final stir and then sprinkle with scallions and serve with rice.
---
Notes
Adapted from Woks of Life.
For cooking tips and ingredient info please read post above.
Keywords: chinese chicken in garlic sauce, chicken in garlic sauce, chinese recipes for chicken, chinese chicken in garlic sauce, garlic chicken chinese