What hasn't been said about Judy Rodgers famous roast chicken? OK- Judy Rodgers of the Zuni Café in San Francisco. Yeah- I know you don't know her, you were probably racking your brain, like who is Judy Rodgers? Well, it doesn't matter as long as you have this recipe. I first ate this in Denver at a restaurant that unfortunately is no longer there. But the food memory stayed and I discovered that I too, can be Judy Rodgers for a few hours.
I LOVE THIS DISH!! It makes your house smell like you could devour it; plus it is insanely delicious. And it is easy. I like easy. Especially on a Friday when you are anxious for the week to end and a day of relaxation to start. (Well, wishful thinking never hurts anyone.) So, as you are probably surmising from the title of this recipe is that it is composed of two parts: the chicken and the salad. Honestly, the chicken is superb but the bread salad is divine. Think about it- you have these wonderful crunchy bread cubes and the peppery green arugula to soak up all those delicious chicken juices, combined with the sweetness of a few raisins or currants which totally satisfies that mystical combination of combining salty and sweet. Chewy and crunchy. Whatever-hopefully you get the picture. The recipe has several steps- trust me- they are fast and easy. And remember this is your entire meal. You need nothing else to complete it except maybe a great bottle of pinot. And your best pal…
Roast Chicken
1 3.5-4lb chicken
2 t Kosher salt
1/2 t Pepper
2 t chopped minced garlic
1 T chopped fresh sage or 1 1/2 t dried
1 T fresh thyme or 1 1/2 t dried
Juice of 1 lemon
Mix the seasonings together with the juice of 1/2 of the lemon. Rub seasoning mixture inside and out over the chicken. You can even rob some under the skin. Place the used lemon half inside the chicken cavity. I pop this into a big Zip Lock bag and refrigerate until the next day.
Preheat oven to 475 degrees. Turn your fan on as it does smoke up the kitchen. (I don't know, maybe my oven wasn't clean enough?) Place the chicken on its side in roasting pan and roast for 20 minutes. Turn over to other side for 20 minutes. Now turn it breast side up and roast for about 15 minutes longer until the inner temperature reaches 170 degrees. Squeeze the other half of the lemon on top of the chicken. Let sit for about 15 minutes tented with foil, before carving.
Salad and Dressing Ingredients
6 c Stale Artisan Type Bread (You could also use Corn Bread) Cut into 1" cubes
4 t Pine Nuts
3 t Olive Oil
1 t Red Wine Vinegar
1 T Warm Water
2 T Small Raisins or Currants
Preheat broiler. Toss bread with 3 t olive oil. Broil until lightly toasted. You may have to shake and turn bread a few times so it doesn't burn. Add pine nuts when the bread is almost toasted so they get a bit toasted, too. Combine raisins with vinegar and water and let stand for 1 hour.
Salad Dressing
2 t Dijon mustard
4 T Champagne or white vinegar
2 1/2 t Olive Oil
1/2 t Salt
1/2 t Pepper
2 cloves Garlic chopped
4 Green Onions or Scallions finely chopped
3-5 c Arugula
Whisk mustard, vinegar and 1/2 t salt and pepper with 2 t olive oil. Add bread mixture and toss to coat. Heat ½ t olive oil and sauté garlic and scallions for about 2 minutes. Drain raisins and toss them with garlic/scallion mixture and add to bread. Bread should be toasted but still a touch chewy. Toss well.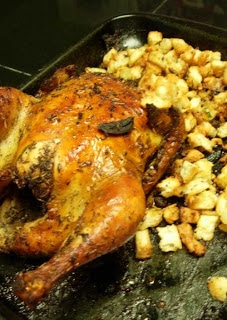 Mix greens with about 2 T of the pan juices from chicken. Mix rest of pan juices with bread. Place the bread in the oven to get warm while chicken is resting. I serve this with the greens on the bottom, then the bread cubes, with a piece of chicken on top. OR you can toss the bread and greens together and then just put the chicken on top of that. Doesn't matter, just MAKE THIS NOW!