Red Velvet Cake, with its almost undescribable flavor, is perfect for chocolate or vanilla cake lovers! As long as you love cake and cream cheese frosting, you will love this recipe.
With Valentine's Day approaching, a red velvet sheet cake recipe seems fitting.
Red velvet cake from scratch, is something I haven't made in years. My mother actually surprised us with this pretty cake on Valentine's Day when we were wee ones.
I'm not sure if she only made it once, but I do remember it. My mom didn't often make cake, so each cake was always special.
My brother-in-law was here a few weeks ago and I thought this occasion merited cake. Frankly, I think most occasions merit a cake, but that is wishful thinking.
With little notice before he came, I was saved by Martha, of Stewart fame!
Slab Cake?
She made a red velvet "slab" cake in this months edition. Easy to do, I thought why not, and so I made the slab cake, sheet cake style. Is there a difference?
No there is not, but a slab cake sounds so much more with it, does it not? Just like whoever heard of a slab pie until a few years ago?
Whatever, the cake turned out delish and Martha did come up with an interesting way to serve this.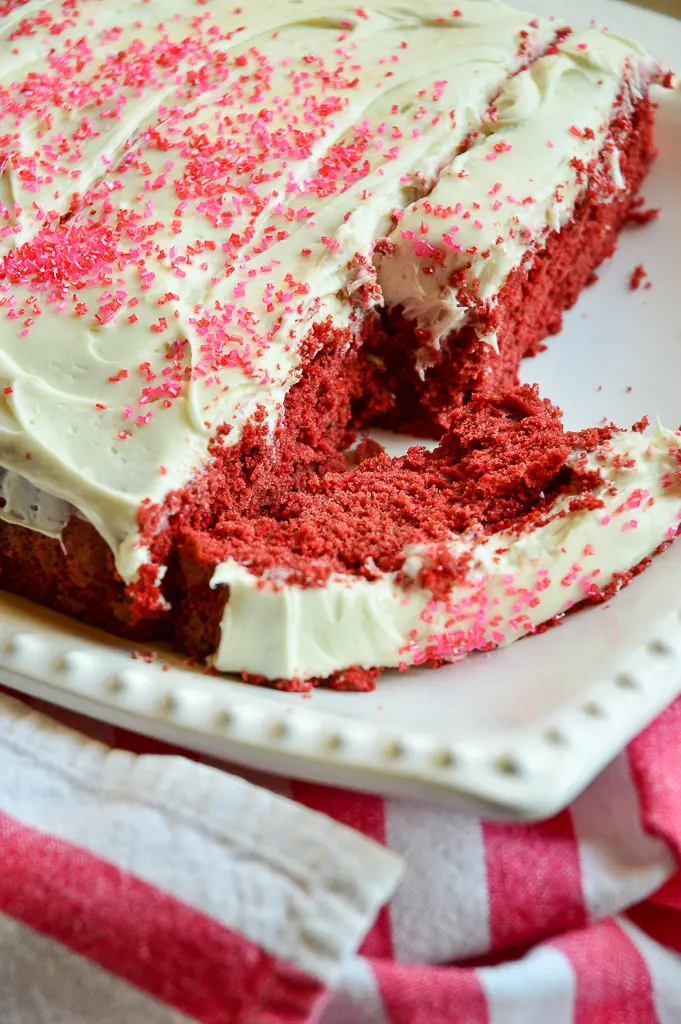 Instead of slicing this cake into squares, she sliced it in strips width wise, which made for a fun slice.
And making this as a sheet cake means you get a ton of cream cheese frosting to dive through before reaching the gorgeous red interior.
A red velvet sheet cake is one divine cake, whether layered as a round or made as a sheet cake.
With a hint of cocoa, this vanilla flavored cake is rich with butter and soft and moist and should totally be eaten with joy.
It's hard to define red velvet flavor, because it is not a chocolate cake. Nor is it a vanilla cake. But with vanilla, sour cream and 2 t of vanilla, this cake leans more towards vanilla, with hints of cocoa.
A red velvet cake is made with cocoa, and generally a true chocolate cake is made with chocolate and not cocoa.
But just like most things, not everything holds true in cooking.
What is a Red Velvet Cake?
Many say a red velvet cake must contain vinegar and buttermilk to provide proper acidic proportions to make the cocoa turn red.
But this red velvet cake contains neither, though it does have sour cream which along with the cocoa, adds some acidity and also makes this cake tender and fluffy.
Historically, this cake was often made with beets which contributed to the color, but during the depression this recipe became popular when red food coloring came into existence.
Made by a company in Texas, this could be why red velvet cake is considered a Southern recipe. However it has also been dubbed the Waldorf Astoria cake, because they may have been the originators of the recipe.
Whatever. This cake is a great cake not only for those who love cake, but for those who can't choose between vanilla or chocolate!
Which in my opinion makes this perfect for Valentine's Day. A day when all should just be celebrating love.
This year I'm pretty lucky. Alex just arrived home from Taiwan last night and we get to celebrate his existence for an entire month.
Unfortunately when he goes back he must quarantine for two weeks and Taiwan is very strict about this. He must love us an awful lot to be willing to go through this.
To celebrate I must bake him a cake! This one disappeared way too fast. Any other suggestions?
Need a Few More?
If you love this recipe, I'd love it if you would Follow Me On Pinterest and Pin and Share!
Print
Red Velvet Cake
Author:

Abbe Odenwalder

Prep Time:

20 Minutes

Cook Time:

35-40 Minutes

Total Time:

40 Minutes*

Yield:

1 13 x 9 pan

Category:

Dessert

Method:

Baking

Cuisine:

American
---
Description
Red Velvet cake, the untraditional way. Tender and moist and look at that color!
---
---
Instructions
Cake: Preheat oven to 350°F. Brush a 9-by-13-inch or 8-by-12-inch baking pan with butter. Line with parchment, leaving a 2-inch overhang on long sides. Butter parchment.
Whisk together flour, cocoa, baking powder, and salt. Combine eggs and granulated sugar in the bowl of a mixer fitted with the whisk attachment. Beat on high speed until thick and pale, about 4 minutes. Add flour mixture; beat just to combine. Add butter, food coloring, and vanilla; beat to combine. Add sour cream; beat until smooth.
Scrape batter into prepared pan, smoothing top with a spatula. Bake until top springs back when lightly touched and a tester inserted in center comes out clean, 30 to 35 minutes (for 9-by-13-inch) or about 40 minutes (for 8-by-12).
Let cool in pan on a wire rack 10 minutes. Using parchment overhangs, lift out of pan; let cool completely on rack. (Cake can be made to this point and stored at room temperature, wrapped in plastic, up to 1 day.)
Frosting: Beat together cream cheese, butter, and confectioners' sugar on medium-high speed until smooth and fluffy, about 5 minutes. Beat in vanilla. Spread frosting over cake. Frosted cake is best the day it's assembled, but can be refrigerated, wrapped in plastic, up to 1 day. Return to room temperature before serving.
---
Notes
As usual Martha Stewart saves Valentine's Day!
Keywords: red velvet cake, red velvet sheet cake, sheet cake recipe, red velvet cake from scratch, red velvet flavor,