Grilled Flatbread with Duck, Orange, Berries and Crispy Duck Skin is one way to eat a duck. Flatbread topped with slivers of grilled duck, a few berries, some orange sauce and the piece de resistance, (and the part that everyone fights over) is the grilled and crispy duck skin. This is one way to wow your guests!
Cookout Week continues and I find myself grilling duck. Maple Leaf Farms sent me such a lovely package of duck, which could be yours if you are the lucky winner, from Cookout Week. While you are busy entering I'm counting the ways to use my duck. I think I'll tea smoke the duck breasts and then throw them on the grill so the skin gets good and crispy and then serve them with a blueberry lavender sauce. I could do that with the duck legs too, but I may save those for a winter stew. And that duck bacon? Well that is destined for duck fried rice in duck fat with more succulent pieces of duck.
It has been a long time since I've had duck, though we ate a lot of it in China. Duck is such a luxurious food though there is no reason for it to be. Duck isn't hard to prepare if you follow the "rules". However if you aren't that familiar with duck I strongly suggest buying a package of the precooked duck half with orange sauce, from Maple Leaf Farms. It is the perfect introduction to duck, as everything is prepared for you. Just heat and eat. Serve with some wild rice and a glass of red wine and I guarantee someone will feel special. On the other hand if you want to do a bit more with that same package, I suggest this magical flatbread that Manservant couldn't keep his hands off of.
Grilled flatbread is a great way to use the grill in summer. I often buy naan bread and throw on my refrigerator leftovers to create a fun dinner. In this case, because I had such marvelous ingredients to work with, I decided to buy pizza dough and make my own flatbread. One pound of dough makes 4 individual flatbreads, so with those and a salad, you have a full meal. The orange sauce that comes with the half a duck is very good on its own but I decided to transform it into a very special flatbread sauce. Bada bing. Bada boom and you have a great orange pizza sauce. I then took the skin off the duck and lightly grilled the duck to take the chill off and give it a little extra flavor. But don't think I discarded the skin. Oh my…horrors. This is the best part. I grilled the skin until it became crispy and golden and then used that as the garnish on my flatbreads. YES PLEASE! And did you know that new research has found that duck fat has similar properties to olive oil? Hallelujah!
This grilled flatbread with duck, orange, berries and crispy duck skin highlights all the components of the duck. With a base of a traditional orange sauce and hearty slivers of roast duck, plus the duck cracklin's, this flatbread is the star of the show. I did add a touch of Stilton cheese with apricots and some berries which pair well with this gorgeous bird. This duck is a star!  If this grilled duck flatbread with orange, berries and duck cracklin's  doesn't make you become a duck lover I'm not sure what will.
Maple Leaf Farms has one of the best web sites I've seen. Besides going into great detail about the care of its ducks and the sustainability of its operations, it has more duck recipes on it than I've ever seen. If you have thought of it, they have thought of it first! Produced in Indiana these ducks are all American, which surely makes them perfect for a 4th of July feast!
You can also follow Maple Leaf Farms on Instagram !
#CookoutWeek 2018 is here! During the next week, I am joining over 50 of my blogger friends to celebrate summer by posting delicious cookout-themed recipes. If you love grilling, frozen treats, picnics, berries, s'mores, campfire meals, and other summer goodies… you are in the right place!
This week, we are also hosting a HUGE giveaway thanks to our generous #CookoutWeek sponsors. Enter below to win. Here's what one lucky person will receive:


That's a prize pack worth over $750!
To enter, follow our sponsors and bloggers on social media by entering your information below:
a Rafflecopter giveaway

Here's a full list of the bloggers participating in #CookoutWeek 2018! You can find yummy recipes by checking out any of the links below:
The PinterTest Kitchen ♥ 2 Cookin Mamas ♥ A Day in the Life on the Farm ♥ A Kitchen Hoor's Adventures ♥ April GoLightly ♥ Authentically Candace ♥ Blogghetti ♥ Body Rebooted ♥ Bottom Left of the Mitten ♥ Cheese Curd In Paradise ♥ Chef Sarah Elizabeth ♥ Coconut & Lime ♥ Cookaholic Wife ♥ CookwithRenu ♥ Daily Dish Recipes ♥ Everyday Eileen ♥ Fairyburger ♥ Faith, Hope, Love, & Luck Survive Despite a Whiskered Accomplice ♥ Family Around the Table ♥ Fix Me a Little Lunch ♥ For the Love of Food ♥ Frankly Entertaining ♥ Frugal & Fit ♥ Get the Good Stuff! ♥ Hardly A Goddess ♥ Herbivore Cucina ♥ Join Us, Pull up a Chair ♥ Jolene's Recipe Journal ♥ Jonesin' For Taste ♥ Karen's Kitchen Stories ♥ Kelly Lynn's Sweets & Treats ♥ Mildly Meandering ♥ Moore or Less Cooking ♥ Our Good Life ♥ Oven Tales By Syama ♥ Palatable Pastime ♥ Sarah Cooks the Books ♥ Savory Moments ♥ Seduction In The Kitchen ♥ Strawberry Blondie Kitchen ♥ Sweet Coralice ♥ Tampa Cake Girl ♥ Technotini ♥ That Recipe ♥ The Baking Fairy ♥ The Beard and The Baker ♥ The Freshman Cook ♥ The Simple Supper ♥ The Spiffy Cookie ♥ The Weekday Gourmet ♥ This is How I Cook ♥ Who Needs A Cape? ♥ Wildflour's Cottage Kitchen
Comment below with your favorite cookout recipe!

Please Pin and Share!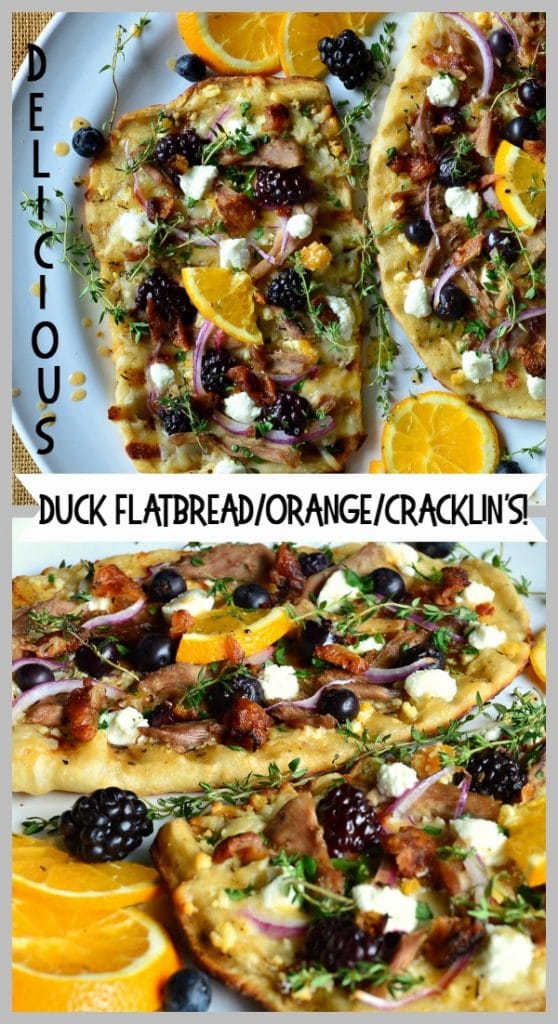 Print
Grilled Flatbread with Duck, Orange, Berries and Crispy Duck Skin
Author:

Prep Time:

30 Minutes

Cook Time:

20 - 30 Minutes

Total Time:

60 Minutes

Yield:

4 Servings

Category:

Main Course, Appetizer

Method:

Grill

Cuisine:

American
---
Description
Grilled Flatbread with duck, orange sauce, berries and crispy, crunchy duck skin is a great summer grill recipe!
---
Ingredients
1 lb fresh pizza dough
2 T olive oil/divided
1 Maple Farms Roast half duck with orange sauce
1-2 t balsamic vinegar
1 t dried thyme leaves
1/2 t garlic powder
1/4 to 1/2 t fresh ground black pepper
4-6 oz Stilton cheese with apricots
3 oz goat cheese
1/4 c thinly sliced red onion
Blackberries, Blueberries for topping flatbread
Fresh thyme for garnish
---
Instructions
Prepare your flat bread by following pizza dough directions. I divided my pizza dough into 4 round balls and coated them with olive oil. I placed each one on parchment paper and when they were at almost room temperature I stretched them with my hands, but you could also use a rolling pin into about 8″ rounds or rectangles. Place back on parchment and set aside.
Remove duck from package and remove skin. Remove duck meat from bones. This is easy to do. Reserve duck skin and meat.
Prepare orange sauce by combining orange sauce, vinegar, thyme, garlic and pepper with another T of olive oil in a measuring cup. Mix well.
Grate your Stilton. This crumbles but that is OK.
Preheat grill to about 450. When grill is ready, oil it well and place your flatbread dough on the open grate. Cover and cook on one side only for about 3-4 minutes or until dough is lightly golden on the bottom. Watch carefully because it will burn the minute you turn your head.
At the same time grill the duck meat until is is room temperature. You don't want to cook it because it is already cooked. You are merely giving it some extra grill flavor. When this is finished tear it into good sized shreds. Don't chop! Grill the duck skin on both sides until golden and crunchy. When this is finished you should be able to crumble it and then it will be used to top your flatbread.
Remove dough from grill and place grill side up. Brush the grill side up of each flatbread with about 1 T of orange sauce. Top each with about 1/3 c Stilton, a few slices of red onion, your shredded duck meat and some crumbled goat cheese. Top with berries of your choice.
When all are prepared, place on 450 degree preheated grill grate that has been oiled. If grill is hot these may only take about 3-5 minutes to bake,  with lid closed. This keeps the heat in and helps melt the cheese. However you can't forget about them!
When flatbreads are done to your liking remove from grill and garnish with the crispy duck skin, a drizzle of orange sauce and some fresh thyme. You may also want another grinding of fresh black pepper.
---
Notes
The amount of cheese you use is up to you. If you prefer cheesy flatbread feel free to add more as well as any additional ingredients.
Keywords: duck, flatbread, pizza,