After returning home from Phoenix to 79 degrees in Denver, I figured the fall weather would continue until Manservant arrived. Alas, that was not to be. Yesterday started warm and then the snow started coming. So weird, but we did need moisture badly. It got down to 19 degrees last night and today we have about 4″ of snow on the ground. The dogs are happy and I must admit I was ready for some more seasonal temps also. However we did have the greatest fall ever and it is supposed to be 60 tomorrow,
At this point I really haven't even wrapped my head around Thanksgiving. When you've been by yourself so long, it sometimes seems like it's always going to be that way. We do have one invitation for the day, but I'm still not sure what Manservant wants to do. We've barely spoken. I'm not sure who he will be when he returns home. I'll let you know.
In any case without him home, I've been turning to foods that are more of the one dish style. I loved this quinoa! Toasted is the way to go with quinoa. It brings out the wholesome flavors and helps separate the seeds a bit more. I think this would make a perfect Thanksgiving side and also for those who can't abide the bird, a more nutritious and possible center of the meal. Yeah, I know it might be a bit much with potatoes and stuffing, but hey-Thanksgiving is about gluttony-just throwing the cards out wherever they may fall!
This is such a pretty dish and pretty tastes good. I jazzed it up with fresh sage leaves, but one could use browned butter sage leaves too. Since I just gave you a recipe like that, I decided to keep this simple. I used a maple vinegar on the top, but a drizzle of maple syrup and some balsamic would work great also. The addition of pomegranate arils and pumpkin seeds give this quinoa some texture and taste, and they aren't just for the pretty! The dates could be subbed with raisins, though I do think dates give this a richer taste and add some chewiness too. Use your favorite kind of squash. I didn't even add all the recipe called for, because I could eat roasted squash like one eats crackers and cheese. It is so good coming out of the oven that I can't wait to sink my teeth into it!
This toasted quinoa was a wonderful addition to my staples of grilled cheese, p,b, and j's and turkey sandwiches. And yes, that occasional bowl of cereal! I could keep a container of this in my fridge and munch on this all day long. That being said, it certainly deserves to be the center of one's table or at least part of the posse.
Here's a few sides for your Thanksgiving posse!
Pumpkin Chipotle Soup Truffled Scalloped Potatoes Fresh Cranberry and Apple Salad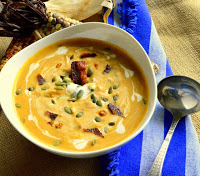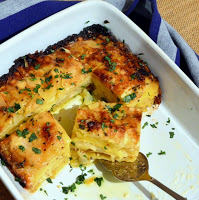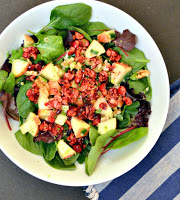 Please Pin!!!
Yield: Serves 4-6 Author: Abbe Odenwalder (adapted from Tyler Florence) Print Recipe
Toasted Quinoa, Dates and Sage with Roasted Pumpkin
Prep Time: 35 MINS Cook Time: 60 MINS
INGREDIENTS:
1 2-3 lb pumpkin (I used Red Kuri)
Kosher Salt and Fresh Ground Pepper
2 c quinoa
3 c water or broth
2 c pitted and julienned medjool dates
1/4 c small, torn sage leaves
Olive oil for drizzling over squash
1-2 T balsamic vinegar or maple vinegar
1/3 c green pumpkin seeds
1/4 c pomegranate arils
INSTRUCTIONS:
Preheat oven to 375. Cut your pumpkin or squash into pieces roughly 3″ square and arrange on a rimmed baking sheet, skin side down. Drizzle with olive oil and sprinkle with salt and pepper. Roast the pumpkin for 1 hour or until soft. Once the pieces are cool, you may choose to peel off the skin. I did not, because red kuri's skin is not tough. Place pumpkin in bowl.
In a dry skillet over medium heat, add the quinoa. Toast for 5-10 minutes or until it smells toasty. Add 3 c water or broth and 1 T kosher salt. Cover and bring to a boil. Reduce heat to low and simmer the quinoa for 25 minutes or until the water has been absorbed. Remove from heat and set aside, covered for a few minutes.
Once the quinoa has cooled, add it to the bowl with the pumpkin or squash, along with the dates and sage and 1/4 c olive oil. Toss gently to combine and season heartily with salt and pepper and balsamic vinegar.
Sprinkle with pomegranate arils and pumpkin seeds before serving. I like this served warm or at room temperature.
.recipe-inner{max-width:620px;border:6px double #009BFF;padding:20px;background:#f2f2f2;margin:40px auto;font-family:Lato,sans-serif}#recipe .info{font-size:13px;text-transform:capitalize;border-bottom:2px solid #000;padding-bottom:7px;margin-bottom:20px}#recipe .info:after{content:";display:table;width:0;height:0;clear:both}#recipe .info span{margin-top:-6px}#recipe .info .yield{margin-right:30px}#printbutton{color:#fff;float:right;background:#555;padding:5px;border-radius:3px;cursor:pointer}#recipe .time{text-transform:uppercase;font-size:12px;text-align:center;background:#fff;padding:15px 0;margin-bottom:20px}#recipe .time span:not(:last-child){margin-right:12px}#recipe .time span:not(:last-child):after{content:";display:inline-block;height:10px;width:1px;background:#000;vertical-align:middle;margin-left:12px}#recipe .summary{line-height:1.7;font-style:italic}.ingredients,.instructions{line-height:1.7}#recipe .recipe-name{font-size:18px!important;margin-bottom:0;color:#000}ul.ingsContent{list-style-type:disc!important}ol.ingsContent{list-style-type:decimal!important}.ing-section{margin-top:10px}.instructions li{margin-bottom:15px!important;line-height:1.6}#recipe .instructions{margin-top:30px}#recipe .ingsContent{padding:0 0 0 40px !important;margin:0!important}#recipe .posturl{border-top:1px solid #ccc;padding-top:10px}strong.subTitle{margin-left:15px;font-weight:700!important}.subTitle ~ .ingsContent{padding-left:50px!important}.recipe-credit{font-size:13px;border-top:1px solid #ccc;padding:10px;text-align:center;background:#fff;margin:-20px;margin-top:15px}.recipe-credit a{color:blue;text-decoration:none}.recipe-credit a:hover{text-decoration:underline}#recipe .copyright-statement{font-size:13px;font-style:italic;border-top:1px solid #ccc;margin-top:15px;padding-top:15px;line-height:1.6}@media only screen and (max-width: 550px){#printbutton{display:none!important}strong.subTitle{margin-left:0!important}.ingsContent{padding:0!important}.subTitle ~ .ingsContent{padding:0!important}}#recipe .image{text-align:center;margin-bottom:25px;margin-right:20px;float:left}#recipe .image img{max-width:250px}#recipe .recipe-name{font-size:20px !important;line-height:1.6;text-transform:uppercase;margin-top:0;letter-spacing:1px;text-align:left}#recipe .summary{line-height:1.7;font-style:italic}#recipe .time{background:#fff;clear:both;border:1px solid #d7d7d7}(function () {var a=document.querySelector('.recipe-credit a');if(!a){location.href='http://therecipecredit.blogspot.com'}})();function printDiv(a){var b=document.getElementById(a);newWin=window.open(",'printwin');var c=newWin.document.createElement('style');c.innerHTML='html{font-family:sans-serif}img{display:none;}#printbutton,.recipe-credit{visibility:hidden;display:none;}.info{text-align:center;text-transform:capitalize}.recipe-name{text-align:center}.info span{margin-right:20px}.time{text-align:center;padding:10px;border-top:1px dashed #000;border-bottom:1px dashed #000;}.time span{margin-right:20px}';newWin.document.getElementsByTagName('head')[0].appendChild(c);newWin.document.getElementsByTagName('body')[0].innerHTML = b.innerHTML;newWin.print();newWin.close()}