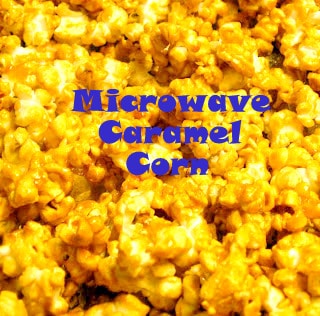 The aroma of caramel corn is imbedded in my genes (or should I say jeans?). The smell of sugar cooking is one that's hard to ignore. In this case my first memory of the blessed stuff is going to the Paramount movie theatre in Kankakee for the Saturday matinee. My mother used to drop us off in front and right next door was a tiny candy kitchen that made fresh, ooey, gooey, caramel corn. Popcorn and butter-not for me. This was the real stuff; the good stuff; the stuff that smelled like sugar and butter but somehow still had a little salt and vanilla to it. The kind they don't sell anymore except at those places like on Michigan Avenue. (No, I don't know the name but my brother would.) Yes, the movie theatre disappeared and the candy shop, too. My childhood memories gone-just like that-kaput.
And today it is Halloween. There used to be a lady in our neighborhood that passed out popcorn balls. No, they weren't caramel corn, but yummy none the less. We aren't allowed to do that anymore. Someone could be hurt. So sad, isn't it? But it is fall, and I want caramel corn. On Halloween where someone might drug me if I go trick or treating-or stick a razor blade in an apple. (My mom used to tell me that but I don't think it was true). Or toilet paper my house if I don't give good treats. I'd give them caramel corn but they want stuff like sour skittles or warheads or pop rocks or something besides chocolate or of course, caramel corn. Well, I'm staying home tonight and making caramel corn- for the memories of course. After all, it smells so good- the smell alone could kill me.
P.S. This came from an older cookbook of mine that was given to me twice as gifts from two very sweet people that I still think of – a lot.
SK Caramel Corn (from Gatherings Cookbook 1987 edition)
16 c popcorn or 1 c popcorn popped
1c brown sugar
1/4c lt corn syrup
1/2c butter
1/2t salt
1 t vanilla
1/2t baking soda
My Secret Tip-you can make your own popcorn in a brown lunch bag. Just put 1/4 c popcorn kernels into bag. Fold twice. Set microwave for 3 minutes. When popping slows take out. You now have made your own popcorn without all that yucky stuff that they put in the prepared bags. You also didn't have to drag out your air popper. For this recipe you should do this 4 times. When you take the popcorn out use your hand so you don't get the unpopped kernels mixed into the caramel corn.
Place popped corn in a doubled brown paper grocery bag. I cut off the top third to make it easier to fit in the microwave.
Combine sugar, syrup, butter and salt in bowl. Microwave on high for two minutes. Stir. Microwave 3 minutes stirring after each minute. This will make a nice gooey thick syrup.
Add vanilla and baking soda. It will bubble like a witch's cauldron. Stir. Pour over popcorn in bag. Shake it well by using your hips with your hands over your head. (shake, shake, shake, shake your booty.) Microwave 1 minute. Repeat again with bag overhead. Microwave 1 minute. Shake again-this is your last time. Microwave 30 seconds. (You now have worked out enough to be able to eat this safely.)
Pour onto foil line counter. Let cool and dry. Take a bite before the smell kills you. Make sure to file this under magic in the microwave.