This week found me unexpectedly in Phoenix taking care of my mother who just had back surgery. She hopefully is now cured of her sciatica pain and soon should be able to do a jig! After all, it's almost time to dance a jig, for St. Patties Day that is. Spring will hopefully, soon be upon us and a sighting of green will surely be a sight to behold, at least in many parts of the country. Though I'm not Irish, I'm always happy to celebrate any occasion and St. Patrick's Day is no exception. Where I come from there was many a Ryan or O'Brien close by and since my parents saw the need to send me to a high school where we were the home of the Fighting Irish, I wore the green plaid tartan almost every day. (And, yes you might wonder what a nice Jewish girl, was doing going to a Catholic high school, but that story is for another day!)
In my past, I've had plenty of Jewish corned beef and my mom used to bake a corned beef each year to commemorate this great Irish occasion. My kids never liked corned beef and cabbage, but they did build a few elaborate leprechaun traps. Somehow one of their teachers convinced them that leprechauns existed and if they caught one the leprechaun would lead them to a pot of gold. (I can remember thinking what a crazy teacher at the time, but it was fun to watch them get so excited while building their trap.) Being the great mother that I was am, I threw down those little green metallic, confetti shamrocks and even put shamrock stickers everywhere to show them that the leprechaun had been there. Their traps were set off and no leprechaun was ever caught much to their regret and mine!
But back to corned beef. It seems that Jewish corned beef came by way of the Irish, because of the close proximity of both groups during the height of immigration. Kind of interesting to know that corned beef is really an American Irish thing and even though Ireland has historically produced a lot of corned beef, most of it was exported. A traditional Irish meal contained bacon or ham. Corned beef does have an interesting history and if you want you can read more about it here.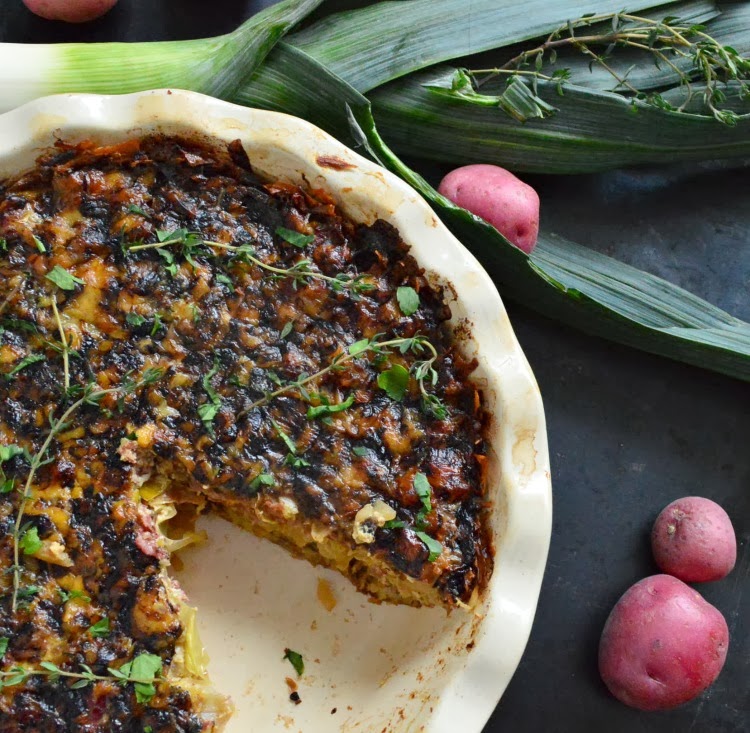 I can't say that I've grown up with many Irish foods in my repertoire, but I'm always happy to oblige Whole Foods. Whole Foods has a variety of foods fresh from the emerald shores. Everything from smoked Irish salmon to Irish cheeses, to Irish bacon plus the ubiquitous corned beef, cabbage, potatoes and Irish soda bread. OK-I know all of it isn't direct from the Irish shores but you can pretend, can't you? Pick up some shamrocks and celebrate.
For my celebration, that came rather quick given my fast departure for Phoenix, I came up with this savory pie. Somehow I combined a slew of Irish standbys and threw them into this concoction for one giant Irish surprise. It contains lots of corned beef and cabbage, some Guinness, some Irish cheddar with stout, and mustard. You've got to have mustard with corned beef. Oh- and did I say it is all in a crisp potato crust? I made my potato crust from fresh grated potatoes, but after reading this, I'm going to tell you how to do it this way, so you can save some time! Now Manservant would have thrown a fried egg on top, but I didn't let him. Yeah, this is a lot like a corned beef hash in pie form and that's not blarney! Make this and it just might have you dancin' a jig!
Irish Corned Beef, Potato and Cabbage Pie
Yield: 6-8 servings
Time: 45 minutes prep, 40 minutes to bake
Ingredients:
1 package of Tater Tots, thawed
1 egg
1/4 c of finely chopped onion
Filling:
1 T oil
2 T butter
2 c chopped leeks
3 c chopped cabbage
1/4 c chopped onion
1/4 t salt
1 t thyme leaves
1/2 lb sliced deli corned beef, chopped
1 1/2 T spicy brown mustard
1/2 t black pepper
1 c Guinness or other dark beer
3 eggs
1/2 c milk
1/2 c half and half
2 t spicy mustard
1 1/2 c shredded stout cheddar
Directions:
Preheat oven to 400. Oil a pie plate. Mix tater tots with egg and onion. Mush it up and press it into pie plate. Bake about 20 minutes and then brush with a little more oil. Bake about another 20 minutes until crisp. Remove from oven and reduce oven to 375.
Heat butter and oil in a large saute pan until hot. Add leeks and cabbage and onion. Saute about 20 minutes over medium heat until golden. Stir in salt and thyme, mustard and pepper. Add corned beef. Cook a few minutes and then use the beer to deglaze pan. Bring up to a simmer and simmer until most liquid has evaporated.
Combine eggs, milk, cream, and mustard in a large bowl. Beat until well mixed. Stir in cooled cabbage and corned beef mixture. Sprinkle half of the cheese on the bottom of the potato crust. Pour in corned beef filling. Top with other half of cheese. Bake at 375 for 35-40 minutes.
Slainte!
Please Pin and Share:
More fun food to try:
Shrimp and Grits
Crispy Chipotle Shrimp and Corn
Barbecued Shrimp Cajun Style
Spinach Salad with Za'atar, Dates and Almonds
Green Onion Garlic Chive Skillet Bread
King Cake
Cajun Potatoes
White Fish with Mushrooms and Browned Butter