Cauliflower is one of my favorite vegetables. Salad is one of my favorite foods. You know where this is going, right? Recently while scanning magazines, which it seems are piling up, I came across this fabulous take on a cauliflower salad. There isn't much to say about it, because frankly my mouth is full-of cauliflower that is. This is that good. It will have you taking bite after bite. Even Manservant who leaves his salad until the end of the meal-and no, he is not French, sang its praises.
This salad has crunch. This salad has rich and herby undertones. This salad has flavor that rocks. It is full of chickpeas for those who love hummus. The orange zest that is only added as a garnish, is a necessary component that has one looking for the bite with the orange flecks. It is spicy, but not too spicy. Look. It is really so simple. This salad is meant to be devoured.
I made minor modifications to the original recipe which called for using all raw cauliflower. Frankly, eating a salad of all raw cauliflower sounds like a lot of chewing to me. So I roasted some of it and mixed it with the raw. The contrast in textures works! And the flavor punch from the roasting is heavenly. Even the little one wanted to get close. So close he licked the spoon. What a great helper, eh?
Oh look. A spoon.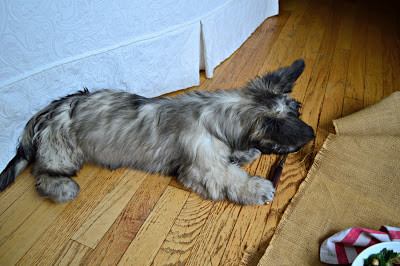 This spoon tastes pretty good.
Why did she take that spoon away?
One other substitution was using za'atar for sumac. I love za'atar in this! I eliminated lettuce and tomatillo because I didn't have any. No reason to cry. This worked out just fine, just fine indeed. Let me know what you think.
Cauliflower Salad with Hoummus and Tahini Dressing
Adapted from Food and Wine, May 2015
Time to Make: About 40 minutes
Serves 4-6
Ingredients:
Dressing:
1/4 c canned chickpeas/garbanzos rinsed and dried
1 T rice vinegar
1 crushed garlic clove
3 fresh lemon juice
2 T tahini
1/2 c fresh Italian parsley leaves
1/2 c fresh mint leaves
1 c olive oil
1-2 t za'atar
1/2 t Aleppo pepper flakes or chili flakes
Salt and pepper
Salad:
1 medium head of cauliflower – 1/2 of it sliced like steaks and the other into florets
2 T olive oil
1/2 c canned chickpeas/garbanzos, rinsed and dried
1/2 fresh Italian parsley leaves
1/2 c fresh mint leaves
Kosher salt to taste
1/2 of an orange zested
Freshly ground black pepper
Directions:
Preheat oven to 400. Place 2 T olive oil in a shallow pan. Take cauliflower steaks and oil them on both sides. Sprinkle with salt. Place in oven and roast for 30 minutes or until golden on the bottom. Flip over and roast until other side is light golden.
Make dressing by combining chickpeas, vinegar, garlic, lemon juice, tahini, parsley and mint in blender or food processor. With motor running slowly drizzle in olive oil and blend until smooth. Dressing will be thick. Add the za'atar and season with salt and pepper. Set aside.
In a good sized bowl, toss raw cauliflower florets, roasted cauliflower broken into smaller pieces, chickpeas, parsley and mint together with about 1/3 to half of dressing. Taste for salt. Transfer to a shallow serving bowl and garnish with freshly ground black pepper and orange zest. This salad does keep well overnight as long as you don't use to much dressing! Enjoy!
More Chickpea/Garbanzo and Cauliflower Recipes:
Smoky Pumpkin Hummus
Hummus
Roasted Chickpeas with Za'atar
Moroccan Fish with Saffron Aioli and Chickpeas
Pasta with Roasted Cauliflower, Pine Nuts and Raisins
Cauliflower Chutney