"Belgian Dark Chocolate Waffles are loaded with dark chocolate chips and chunky bits of sugar. Not too sweet and just right for a holiday brunch, these waffles will quickly become a favorite!"
For breakfast I grew up eating Rice Krinkles with milk or Oscar Meyer liver sausage on toast. Let's just say that the Weiner home wasn't big on breakfast. Sunday mornings sometimes featured my dad's fried eggs or Bisquik pancakes but that was about it. What a shame because I love breakfast and it was weekend breakfasts that often enticed my kids to get out of bed and start their day. Not too long ago, I was inspired while reading The Bindery's brunch menu featuring dark chocolate liege waffles with smoked maple syrup and black walnuts so I decided to whip up my own version. Though I haven't yet had The Bindery's version, I have no doubt they will quickly become a favorite.
It was just a month ago that The Bindery opened in Highlands, in a great location that features free parking, (what a concept), and a panoramic view of downtown Denver. Built on the site of an old printery, this new modern building takes its name from history. This eclectic marketplace combines a bakery, cafe, bar and fine dining under chef/owner Linda Hampsten Fox. A private chef and caterer, Linda is an artist and her medium of choice is food.  Thank goodness those of us in Denver are the beneficiaries of that expertise.
Trained in Switzerland, France and Italy, in addition to venues in Mexico, The Bindery has created an eclectic menu of flavors featuring Chili Braised Beef Cheeks over parmesan grits, a deconstructed Coq au Vin,
the Secret Garden with its own organic, delectable "dirt" and maple carrot jerky,
along with a Rabbit Rarebit that had me hopping to grab the last slice.
This beer braised smoked rabbit with Vermont cheddar, pecans and mustard was perfect for a cold rainy night on which I didn't even know I liked rabbit! Mascarpone and radicchio ravioli in a poppy seed broth must have been born from Linda's Eastern European roots, but in true Linda style she fashioned this dish into something inventively new.
This creativity also helped design dessert and turned a Baked Alaska into a Baked Colorado by highlighting tres leches cake, dulce de latte ice cream and bitter caramel all coated in dark chocolate and torched meringue. Definitely worth the price of admission alone!
Though I haven't yet had the opportunity to try the bakery, cafe or marketplace the artisanal small batch products are quite appealing. Jams, syrups, and hot sauce along with delectable baked items, plus take out dinners and lunches are designed to be convenient and irresistable. The Bindery's sunny atmosphere with tall paned windows, open kitchen and baker's ovens are front and center and add to the appeal of the elegantly casual 4000 square foot space. Just like Linda, this space is warm and comforting. And just like the menu says and we all know, "Food is one of life's great pleasures."
The Bindery serves food filled with love, along with rustic, traditional and elegant modern flavors. The Bindery, I predict, is one for the record books.
The Bindery
TheBinderyDenver.com
1817 Central Street
Denver, CO 80211
Closed Mondays
_________________________________________________________________________________
So back to these dark chocolate waffles filled with bittersweet chocolate and chunky sugar bits… Manservant loved them. I loved them. Not too sweet, they are perfect with maple syrup and they would also be perfect with the ancho tequila maple syrup below. I served them with a mole pork sausage and they were killer. You could add cinnamon to the recipe but I loved the flavor of chocolate on its own. Can't wait to try this on the brunch menu at The Bindery to see how they compare but then again I might just want to try the Dutch Babies with Milk Jam and Berries!
More Waffles to Love: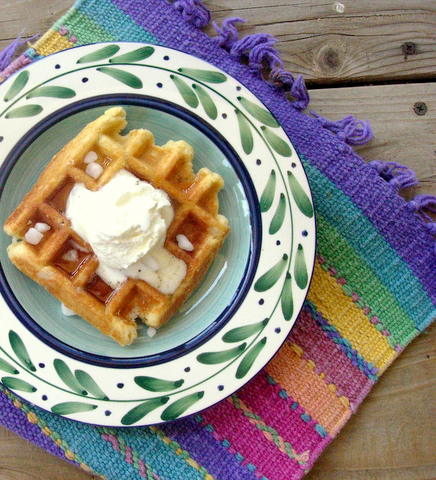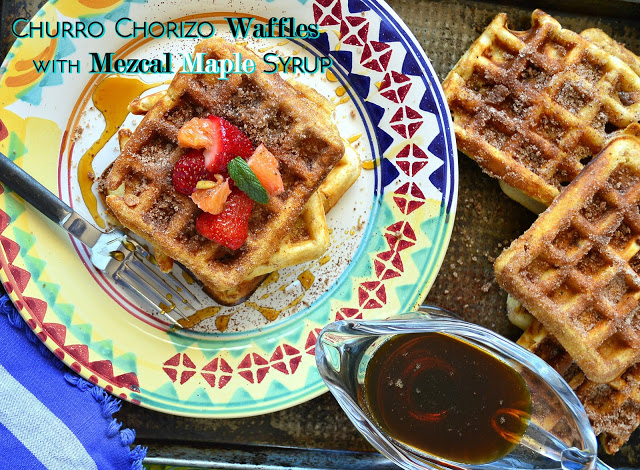 Please Pin and Share:
Yield: 12 WafflesAuthor: Abbe OdenwalderPrint Recipe
Dark Chocolate Belgian Liege Waffles
These dark chocolate waffles filled with dark chocolate and chunky sugar bits that caramelize when baked in a waffle iron will get anyone out of bed.
prep time: 60 MINScook time: 15 MINStotal time: 75 mins
ingredients:
3c unbleached  flour

3/4 cup lukewarm milk

2 sticks softened butter

2 eggs

1/2 t salt

1 t vanilla

3/4 c bittersweet chocolate chips (I like Ghiradelli)
1/2 bag of Lars pearl sugar or 4 oz pearl sugar or coarsely chopped sugar cubes
instructions
Dissolve yeast in lukewarm milk for a few minutes. After it sits a few minutes, I use my mini whisk to blend the mixture better.

Gradually add all the ingredients to the flour, except the pearl sugar and chocolate. Feel free to use your hands, a pie crust blender or a mixer to do this. Really, I just use my hands and smush and form into a blob. Cover dough with plastic wrap and let it rise in a warm place until doubled. This takes  about 30-45 minutes. Now smush in the sugar and chocolate.

Divide dough into small patties about 3-4 ounces each or use a 1/4 c measure. I make them a bit on the large side.

After your waffle iron has preheated plop each patty in. They take about 90 seconds to bake. Take them out carefully so the sugar doesn't burn you however don't wait too long to eat them. Nothing like a hot waffle. Dust with cocoa or powdered sugar and serve with warm syrup.
.recipe-inner{text-align:left;max-width:620px;border:6px double #009BFF;padding:20px;background:#f2f2f2;margin: 40px auto;font-family:Lato, sans-serif;}.recipe-inner a{color: #4193f0;}#recipe .recipe-name{font-size: 21px;}#recipe .info{font-size:13px;text-transform:capitalize;border-bottom:2px solid #000;padding-bottom:7px;margin-bottom:20px}.info:after{content:";display:table;clear:both}#recipe .info span:first-child{margin-right:30px}#printbutton{border:0;margin:0;color:#fff;float:right;background:#555; padding:5px;border-radius:3px;cursor:pointer}#recipe .time{text-transform:uppercase;font-size:12px;text-align:center;background:#fff;padding:15px 0;margin-bottom:20px}#recipe .time span:not(:last-child){margin-right:12px}#recipe .time span:not(:last-child):after{content:";display:inline-block;height:10px;width:1px;background:#000;vertical-align:middle;margin-left:12px}#recipe .summary{line-height:1.7;font-style:italic}.ingredients{line-height:1.7;clear:both}.ingredients h3,.instructions h3,.notes h3{font-size:20px !important;font-weight:400 !important;margin-bottom:0;color:#000;text-transform: uppercase;}.ingredients ul{margin:0!important;margin-top:5px !important;}.instructions li{margin-bottom:15px !important;line-height:1.6;text-align:left;}.ingredients li{text-align:left}#recipe .instructions{margin-top: 30px;}#recipe .instructions ol,#recipe .instructions ol li {list-style:decimal !important;}#recipe .instructions ol{padding-left:39px;margin:0!important;margin-top:6px !important;}.posturl{border-top:1px solid #ccc;padding-top:10px;}.ing-section{padding-left:20px;margin: 10px 0;}.ing-section > span{font-weight:700}.recipe-credit{font-size:13px;border-top: 1px solid #ccc;padding:10px;text-align:center;background:#ffffff;margin:-20px;margin-top:15px;}.recipe-credit a{color:blue;text-decoration:none;}.copyright-statement{font-size: 13px;font-style:italic;border-top: 1px solid #ccc;margin-top:15px;padding-top:15px;line-height:1.6;}.notes pre{font-size: 15px;margin: 10px 0;padding-left: 20px;font-family: inherit;line-height: 1.7;white-space: pre-line;}.notes h3{margin: 0}.nutrition-info{font-size: 0;margin: 20px 0;padding: 10px;background: #fff;}.nutrition-info>div {display: inline-block;font-size: 14px;width: 20%;text-align: center;}.nutrition-info>div:nth-child(5) ~ div{margin-top: 20px;}.nutrition-info>div p{margin-top: 0;margin-bottom: 7px;}#recipe .image{text-align:center;margin-bottom:25px;margin-right:20px;float:left}#recipe .image img{max-width:250px}#recipe .recipe-name{line-height:1.6;text-transform:uppercase;margin-top:0;letter-spacing:1px;text-align:left}#recipe .summary{line-height:1.7;font-style:italic}#recipe .time{background:#fff;clear:both;border:1px solid #d7d7d7}function printDiv(a){var b=document.getElementById(a);newWin=window.open(",'printwin');var c=newWin.document.createElement('style');c.innerHTML='html{font-family:sans-serif}img{display:none;}#printbutton,.recipe-credit{visibility:hidden;display:none;}.info{text-align:center;text-transform:capitalize}.recipe-name{text-align:center}.info span{margin-right:20px}.time{text-align:center;padding:10px;border-top:1px dashed #000;border-bottom:1px dashed #000;}.time span{margin-right:20px}.adunit,.adunitlabel,.adunitwrapper,.adunitwrapper,.chicory-order-ingredients{display:none!important}.nutrition-info{font-size: 0;margin: 20px 0;padding: 10px;background: #fff;}.nutrition-info>div {display: inline-block;font-size: 14px;width: 20%;text-align: center;}.nutrition-info>div p{margin-top: 0;margin-bottom: 7px;}';newWin.document.getElementsByTagName('head')[0].appendChild(c);newWin.document.getElementsByTagName('body')[0].innerHTML = b.innerHTML;newWin.print();}