There are a zillion types of apple cake. There are apple cakes made like bundt cakes and apple cakes like pound cakes. And French apple cake and German apple cake and apples tossed with batter and apple cheese cakes and so on and so on. This my friends is a Passover apple cake. Now some of you might ask why bake a Passover apple cake in the fall, when Passover is in the spring? Well, to that I would respond that a good cake knows no season and so I present to you an apple cake that has received accolades over the years; whether served in the spring or the fall.
This is an apple cake that is so simple to make one might call it a crime, but we won't tell. This is a cake whose batter is moist and luscious. This is a cake where the apples almost become the batter as they leak into the dough surrounding them. This is a cake where the streusel is somewhat crunchy, somewhat crumbly, but more than good. This is a cake that demanded a hint of caramel sauce to add to its simple decadence. This is a cake that's almost a pudding; but it's not. This is a cake that has one going back for seconds or heaven forbid licking the knife that sliced it. And yes, this is a cake my mother made but forgot about. How could she?
I didn't make it back in time from China to bake this for Rosh Hashona, when apples are part of the celebration. However my contribution for break the fast was this Passover apple cake. Remember Passover isn't just for Passover anymore! This cake is as simple as mixing up oil, eggs, matzoh meal and sugar and spreading half of it into a spring form pan. Top that with cinnamon sugared slices of apples, spread the rest of the batter on top, throw on a simple streusel and this is ready to bake. Adding the caramel sauce was inspiration, because everything goes better with caramel sauce, does it not?
More about China is ahead, so I understand if you want to get to the goods. Skip down to the recipe and just look how cinnamon and sugar, and apples and caramel sauce, will make your day. You won't be disappointed and you will love the compliments. I know I sure did!
_________________________________________________________________________________
Now onward to Chengdu. I was so busy stuffing my face with Sechuan food that I could have used a slice of this cake to cool my mouth off! Chengdu is in the Sechuan region of China and Chengdu doesn't let you forget it. Chengdu is also home of the pandas and so many other sites that I can't wait to go back. It is a city the size of Chicago and maybe that's why it seems somewhat more manageable than some of the other larger cities we visited.
We started by heading over to Jin Li for lunch. We didn't really know where our hotel was sending us after asking them to recommend a lunch spot. Before we knew it we were being dropped off near the Wuhou monastery and the entrance to the Jin Li Pedestrian Street which is a street food kind of touristy street. Touristy but fun, some might say Disney-esque and not one western face in the crowd. It also had awesome shopping, but this was our 2nd full day in China and we couldn't really get into shopping. Makes me sad remembering how I was sure I'd see the same things everywhere, but didn't.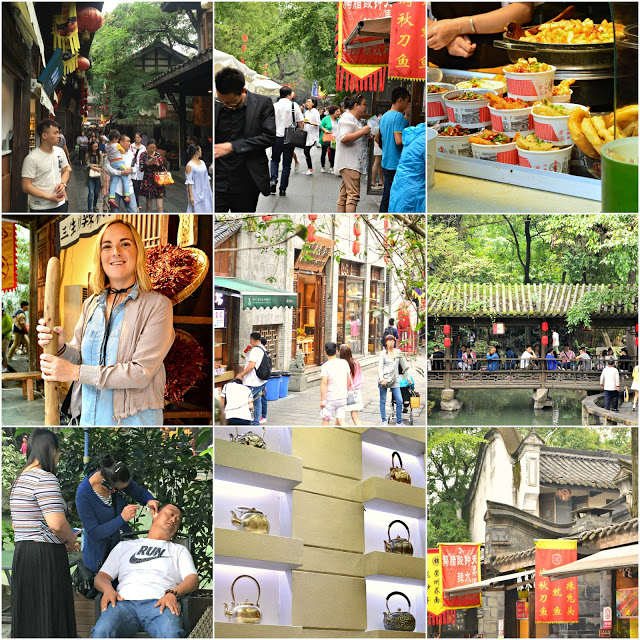 So, some might notice this poor guy in the corner. Ear cleaners are quite common in public areas in China. I am told that Chinese ear wax is different than Westerner's, in that it is more solid. Do not laugh! I will never state this as fact, but it does beg the question. Is it? And if I were this guy I probably would have followed the advice on his t-shirt!
Jin Li was packed. I remember ladies staring at my feet which were encased in sandals and having just had a pedicure before I left, I had lovely pink toe nails. Hmm. I think they were quite shocked! Manservant quickly found a bowl of noodles that he ordered for take out as he left us to go back to work. No lids in China that I know of. They put his bowl of soupy noodles in a plastic bag, tied it up pouch like, and somehow he managed to get it back to the hotel without spilling a drop. In the meantime we proceeded to try lots of street food, but couldn't find a place to sit. We continued our walk through the crowds and somehow ended up in the back of the monastery gardens. It was amazing going from a packed, noisy street into the solitude of the gardens in just a few short steps! Still feeling jet lagged we welcomed the peace.
I imagine that parks and gardens are true escapes for many Chinese. Alex tells us that even in the cold of winter the parks are full of folks bundled up while congregating in groups, playing cards or mahjong and having a good time. Most homes or apartments are very small, so socializing can't always be done there. We saw people singing, dancing and playing a variety of games in every park we visited.
Sechuan food is a story unto itself. One must truly pick out the chicken from the peppers or whatever it is you ordered. Peppers make up at least half of the dish. Not that that's a bad thing! Just make sure you realize that the green peppers aren't green beans and proceed to eat them as such. Hmmm. Wonder who did that. Dinner found us at this wild restaurant called Chaozuo Dashi in the top of a mall near Taikooli. Filled with designer stores and amazing architecture
and even some impostors.
This restaurant which means Great Master, Alex found on the Chinese equivalent of Yelp.
It was decorated like a fashion show runway and I do believe the food was the fashion. I couldn't find anything on any English sites showing its existence, but this was a great place to burn one's mouth! Notice anything defining about that food?
Our third day in Chengdu had us off to see the pandas. Pandas are considered a national treasure in China. The park had red pandas too, which I think are just as cute and also endangered. But man oh man, pandas are cute, though we all agreed that Mr Big Buddha was more exciting.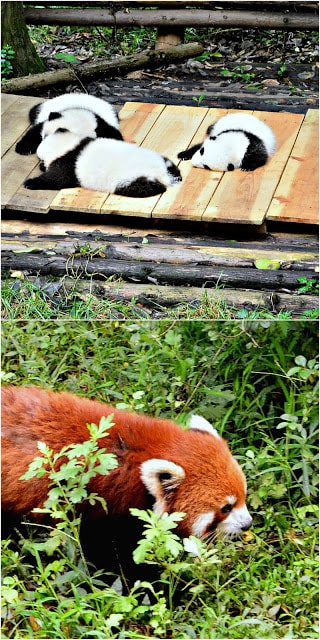 The baby pandas are quite active!
However one can't go to Chengdu without seeing the pandas. Really. From there we found ourselves at the Wenshu Monastery, the largest Buddhist Temple in Chengdu dating from 618, during the Tang Dynasty. We wandered around but quickly found ourselves craving food which took us to Zhang Liang Fen, a famous ma po tofu place where we also had Dan Dan noodles and dumplings. There Ma Po Tofu wasn't my favorite, but the noodles and dumplings more than made up for it. And then it was a matter of wandering some more. That's the thing about China. It is hard to stick to a plan because there is so much that catches your attention. It's easy to lose track of time while people watching, or eating or wandering off the beaten path.
Another night found us walking through The People's Park to the Wide and Narrow alley, which is a quaint place to walk through. We took a photo of the Starbucks pagoda and as you can see this was quite a photographic opportunity. (Not the best photo but I was being pushed around a lot!)
Additionally, my beautiful Zoe was stopped several times to have her photo taken. She appeals to the 12 year olds who seem to be taken with her blond hair. Happily, she obliged the paparazzi with many opportunities.
Dinner was hot pot at The Way of the Dragon. And hot it was, though we just ordered it medium. Zoe and I would have preferred mild but no one listened to us and the men in our group kind of admitted that we were right. What a gorgeous restaurant! People literally were cramming in just to take photos and yes, it was photo worthy. We waited awhile for a table, which meant missing the Sichuan Opera performed in the restaurant, so if you ever go to eat there, call ahead. And good luck with that!
Hot pot is ordered by the type of broth one wants. There is a traditional spicy pot, a tomato pot and a blander type of fish broth. We ordered a dual broth pot, but I was outvoted on the tomato. One then chooses what goes into the hot pot. There is a huge variety of things like intestines, tripe, eel, duck tongues and even a superior pig aorta. Yes. That is how the menu describes it. This was one menu that was printed in both English and Chinese. We were probably considered boring as we stuck to things like shrimp and beef and mushrooms and of course, Budweiser, the king of beers. About $2 a bottle, we drank quite a few! The three bowls below were garlic, cilantro and green onion that were used to season the food. Additionally, we had our own individual jars of chili oil!
Our last morning in Chengdu found us having massages. This is a Chinese thing and one that should be common over here. Luckily for me we actually have one close to where I live. I can get a 75 minute fully clothed massage for $35. Not bad, huh? But way better in China. After relaxing a bit and having a fish for lunch…yes, there are many places where an entire fish is cooked at the table in the sauce you prefer, with the veggies and accompaniments you want. Very good and healthy! After filling his belly Manservant went back to work while we headed over to the Wangjiang park and to see the River Watch Tower dedicated to a woman poet of the Tang dynasty.
After taking in the sites and feeling very Chinesey we sat and had tea. It was relaxing sitting in the park in our blue and green chairs and sipping tea out of what look like covered bowls. This was a new one for me. Tea leaves are placed in the cup, water is poured atop. After steeping, one drinks by pushing the lid back ever so slightly to avoid a big wad of leaves in one's mouth.The lid also keeps your tea warm. You can tell by the thermoses of hot water that are set by your table that they expect you stay awhile.
Alex Odie san China Boy has become "of the culture". He even purses his lips while saying "mmmm." It's a Chinese word uttered very deeply and with purpose. We still have no clue what it really means.
And that's it! Chengdu is a recent memory and one I would love to repeat. However editing these photos takes a lot longer than taking them. So now it's on to Shanghai. Can't wait! And of course the recipe for this apple cake. It would have gone great with that tea.


Apple Cake with Streusel Topping and Caramel Sauce
(For Passover)
Serves 12-16
Time to Make: About 25 minutes and 75 minutes to bake
Ingredients:
Cake:
6 eggs
1 c oil
2 t potato flour
2 c sugar
2 c matzoh meal
Pinch of salt
Filling:
4 or more large, thinly sliced, peeled apples (I used Honey crisps or Granny's work well, too)
3/4 c sugar or to taste
2 t cinnamon
Juice of 1 lemon
Streusel:
1/2 c chopped nuts or matzoh meal
2 t cinnamon
1/2 c sugar
2 – 4 T oil or butter (I used butter in this for a richer taste)
Caramel Sauce:
1/2 c brown sugar
1/2 stick butter
2 T milk
1/2 t vanilla
Directions:
Preheat oven to 350. Grease lightly a 12″ spring form pan. Soak apple slices in sugar, cinnamon and lemon juice. Stir together ingredients for cake. Spread half in bottom of pan. Pour apples and juice over. Cover with remaining batter. Mix ingredients together for topping. (I use my hands to make clumps of streusel, however you don't need to use butter or oil if you just want a crumb topping.)
Sprinkle topping on cake and bake for about 75 minutes. Let cool. Remove spring form and pour caramel over.
To make caramel: Combine butter, brown sugar and milk in a small pot. Stir well to combine and let mixture come to a boil while stirring. Once it starts to boil, let it boil for 2 1/2 minutes. Remove from heat and add vanilla. Let cool to room temperature. Pour over top of cake. If you want it thicker stir in a few tablespoons of powdered sugar. This stays sauce like for about 4 hours. If left over night with the sauce on the cake, it will harden. Still tastes great, but it won't be warm and gooey.
More Fall Desserts to Pin and Share:
Brown Sugar Spice Cake with Caramel Glaze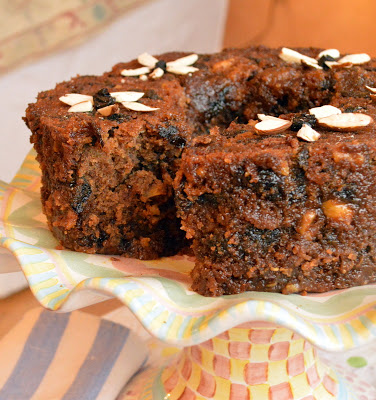 Gingerbread Pear Upside Down Skillet Cake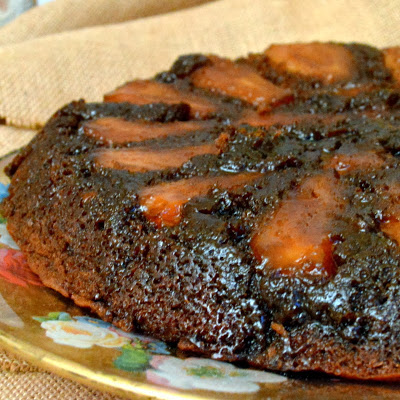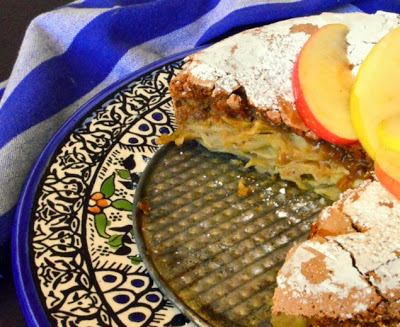 Honey Cake with Apples and Toasted Walnuts